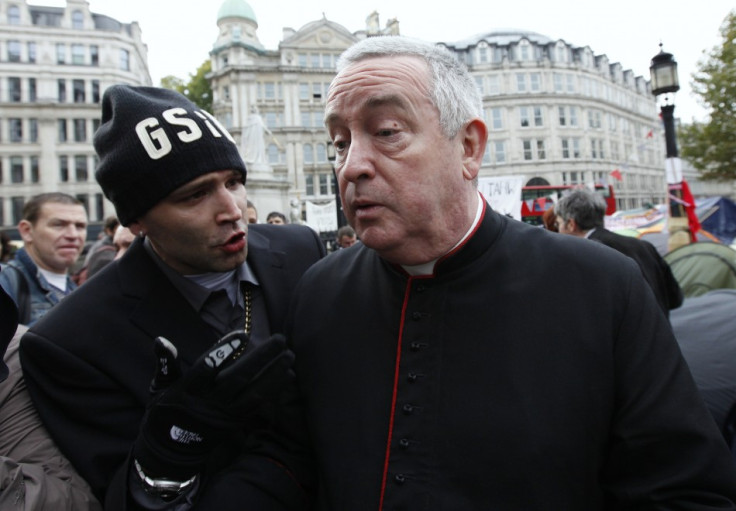 One of the protest's great allies in the church, Rt Rev Graeme Knowles, has resigned amidst fears of a long running legal battle between the church and the protest which had made his position, in his words, "untenable."
The Dean, one of the most senior clerics in the Church of England, is the second member of the St Paul's religious management to resign over the Occupy London tent camp that pitched on the plaza on October 15th, to protest against corporate greed. Last week the canon chancellor, Dr Giles Fraser, quit "with great regret and sadness", having been sympathetic to activists camping in the churchyard.
In a further development on Monday afternoon, the City of London Corporation are due to send a letter giving the Occupy London protesters 48 hours to move their tents before it files an official injunction.
The letter, due to be delivered at some point on Monday afternoon or early Tuesday morning, will threaten legal action unless the tents are moved by Wednesday afternoon. Greg Williams of The City of London said: "Blocking the highway is a very serious matter. We're not saying people cannot protest, simply they cannot put their tents in a public highway."
General assembly meeting
In what will be the most important general assembly meeting since the camp was erected 16 days ago, members will vote on whether they will agree to the terms of the letter and to pack away their tents or to stay and fight St Pauls and The City of London in the courts.
Sylo, a member of the press team at Occupy London SX, said: "Anyone can participate in the vote. This is a democratic vote for a democratic protest."
If the protestors decide to stay and fight the injunction Mr John Cooper QA will represent Occupy London in court - a process that could take "weeks or even months".
Similar to the eviction of Dale Farm two weeks ago, the camp is anxious not to see a repeat of the scenes at the Essex farm.
Sylo said: "We don't want to see violence. That's not why we are here."
He added: "It is really sad to see the Dean [Knowles] go. He was a great supporter of ours and it will be a great loss to the church."