Staffordshire bull terrier mauls owner to death 'in presence of TV crew'
The dog is currently being held at a secure kennel while authorities decide its fate.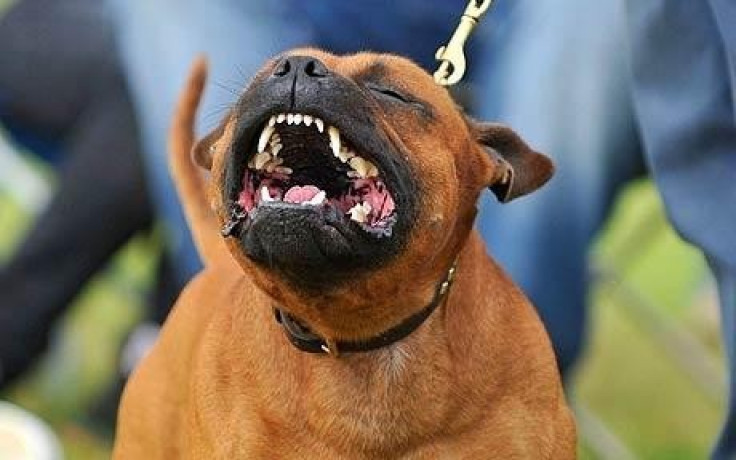 A man from London has died after being mauled to death by his own Staffordshire Bull Terrier.
The 41-year-old victim, who has not yet been named, was attacked outside a property at Normans Close in Wood Green on Monday (20 March) and died in hospital a few hours later.
Police were called to the address and found that the dog had wounded its owner's neck during the incident.
Sky News is reporting that a camera crew was at the house interviewing the victim at the time the attack place.
The London Ambulance Service also attended and the man was taken to a nearby hospital but could not be revived and was pronounced dead just after midnight
A decision over the fate of the offending dog is yet to be made — it is currently being held at a secure kennels while authorities debate whether to have it destroyed.
A spokesman for the Metropolitan Police said: "The man's death is not being treated as suspicious – a post-mortem examination at Haringey mortuary on Friday, 24 March gave cause of death as hypovolemic shock and damage to the airway consistent with a dog bite. Enquiries by police at Haringey continue to assist the coroner."
The BBC said in a statement: "We are aware of an incident but we cannot comment any further as it's an ongoing investigation."
Saffordshire Bull Terriers – also known as "Staffies" are not listed as banned under the Dangerous Dogs Act. The four banned breeds are the Japanese Tosa, Dogo Argentino, Pit Bull Terrier and Fila Braziliero.
According to Hospital Episodes Statistics, between March 2014 and February 2015, 7,227 people were admitted to hospital as a result of dog attacks. At least 13 children have died as a result of dog attacks in the UK between 2006 and 2016.
© Copyright IBTimes 2023. All rights reserved.