One man has been charged and a further eight arrested following a two-day rooftop protest at a factory owned by an Israeli weapons producer in Staffordshire.
The pro-Palestine campaigners scaled the roof of the UAV Engines Limited building in Shenstone at around 5am on 5 August. The group, including members of the London Palestine Action group, were demanding a closure to the factory and an "end to all forms of military trade" with Israel.
The factory, which produces engines for military drones, is owned by Israel's largest weapons company, Elbit Systems.
One man, Joseph Lee, aged 29, from Islington, north London, has now been charged with aggravated trespass. He is to appear before magistrates in Cannock on 20 August under the conditions he must not enter Staffordshire in the meantime.
Eight other people, five women and three men, have also been arrested on suspicion of aggravated trespass and currently remain in custody.
Staffordshire Police confirmed the surrounding area which had been closed off during the protest has reopened.
Chief insp Jane Hewett from Staffordshire Police said: "Throughout this operation our role has been to ensure the safety of all those involved, that includes the protestors, our staff and the wider community.
"Our duty is to provide fair and balanced policing - we're here to keep the peace and to uphold the law, but when the law is broken we will take appropriate action.
"Since the protest began highly trained police negotiators have been in regular conversation with the protesters and have explained on numerous occasions that their actions in this protest will result in their arrest for aggravated trespass. We have also continuously provided the protestors with the opportunity to safely and peacefully hand themselves to police officers.
"We are very much aware of the disruption the actions of the protestors has had on the local community and businesses in the area and we have had to carefully balance our role in facilitating peaceful protest against any unlawful impact on the wider community."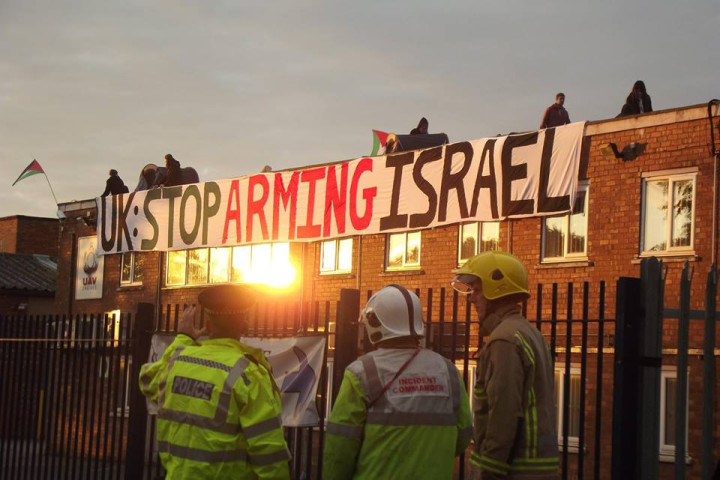 One of the occupiers, Sara Cooper, 26, a teacher from south London said: "We took this action to shed light on the ongoing arms trade between the UK and Israel. We will continue to build pressure for a comprehensive arms embargo on Israel".
Amnesty International previously said there is evidence to suggest engines created in the factory were used in drones which killed civilians during the 2008-09 Operation Cast Lead attack on Gaza.
Following the protest, Oliver Sprague, Amnesty UK arms programme campaign manager said: "Quite frankly no UK-based company should currently be supplying the Israeli military with any arms or equipment. Before these protests escalate, Downing Street should announce an immediate suspension of any further arms to Israel. We should not be complicit in war crimes."