Star Trek 3: William Shatner's Kirk and Spock Cameo Features Nimoy, Pine and Quinto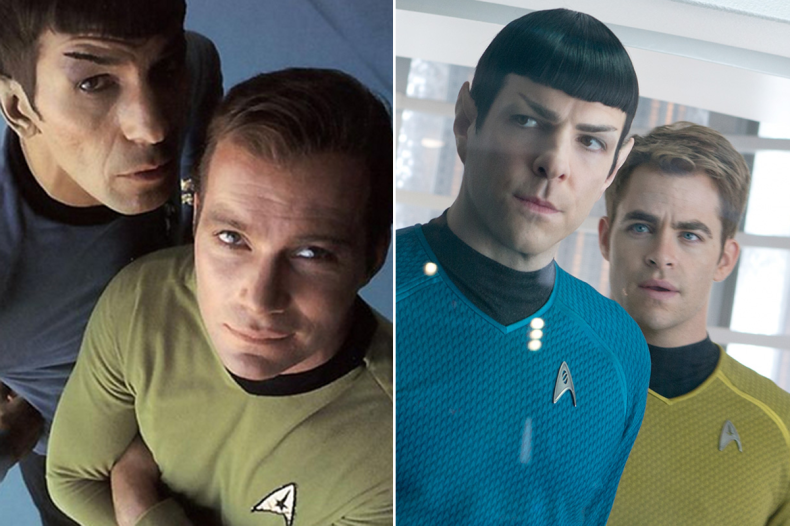 Star Trek 3 will feature a cameo from Kirk William Shatner. Despite a mess of denials and confirmations it now seems certain that Shatner will return for a brief scene in the third Star Trek movie.
Last night Shatner tweeted: "I'm baaaaccckk!!!" but has since deleted the tweet. This came not long after some details regarding the nature of his cameo surfaced online from Badass Digest, where news of it first broke.
At first it was said that Shatner would share the screen once more with Leonard Nimoy's Spock, but now it appears the pair will come face-to-face with their younger selves as well.
"My sources are now telling me that not only will Shatner be in the movie, his scene will have him meeting Chris Pine," reads their report. "Also in that scene: Zachary Quinto and Leonard Nimoy. But if my sources are steering me correct this won't be original timeline Spock - it'll be future alt-timeline Kirk and Spock. Basically the scene will have Kirk and Spock interacting with their future selves."
In 2009 JJ Abrams' Star Trek reboot also acted as a prequel, using a time-travel plot to create a new timeline and send the new-look younger team on a different path to that of the original team in the 1960s TV series.
That film saw the older, original Spock travel back from the original timeline and start a whole new one, but this Spock won't be the same we see in Star Trek 3 according to the report, but an older version of the new Spock played by Quinto.
I hope that made sense.
It's a decent enough idea to get Shatner and Nimoy together once more for the film, which will presumably be ready in time for Trek's 50<sup>th anniversary in 2016. That said the two rebooted films so far have both featured Nimoy already, so this really should be the older actors' swansong. It's time to let the younger cast star in a film all by themselves.