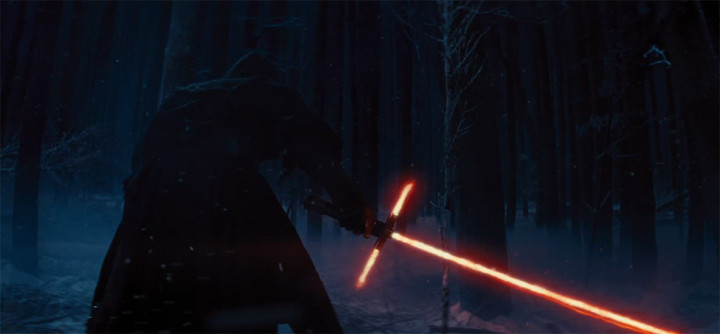 Star Wars The Force Awakens trailer released amid much fanfare in theatres on Thanksgiving Day and a day later on iTunes on Black Friday.
The 88-second trailer has much to say about the plot of the movie than meets the eyes.
Die-hard Star Wars fans got a chance to visit the far away galaxies after nine-and-a-half long years.
The teaser trailer has been appreciated by one and all though it has not leaked much information about the plot of the hugely popular science fiction thriller.
However, a close look at some scenes of the movie gives a brief insight into the story of the JJ Abrams directed movie that begins 30 years after the events of 'Episode VI: Return of the Jedi'.
We couldn't find a single frame for Luke Skywalker and Han Solo but the wait for a full-fledged trailer will be worth it as his entry is special.
According to Screenrant, things have turned thorny after the defeat of the Emperor in the last movie.
The website also suspects that John Boyega's Stormtrooper will encounter Daisy Ridley's character after he got stranded on a deserted planet, probably Tatooine.
Ridley's character may help Boyega's bad guy character to heal and sustain himself on the planet, after which he will transform into a good guy and together they will discover a severed hand holding a lightsaber. They then decide to return it to its real owner.
Ridley and Boyega will finally meet the legendary Han Solo and Chewbacca who will recognise the lightsaber as that of Skywalker's.
After finding Skywalker, they come to know about the wickedness of the Inquisitors who secretly partnered with Sith in order to destroy the Jedi Masters or Jedi-in-training.
Star Wars 7 is the first of a new trilogy and stars original cast members Harrison Ford, Carrie Fisher, Mark Hamill, Anthony Daniels, Peter Mayhew and Kenny Baker alongside Andy Serkis, Max von Sydow, Oscar Isaac, Adam Driver and Domhnall Gleeson, plus relative newcomers and British actors John Boyega and Daisy Ridley.
The movie is scheduled for release on 18 December 2015.