New, exciting details about the upcoming Star Wars spinoff movie titled: Star Wars: Rogue One were revealed during a panel at this weekend's Star Wars Celebration. The film's director Gareth Edwards also unveiled a teaser of the film, much to the delight of fans.
The teaser starts with Obi-Wan Kenobi's voice-over from the first Star Wars, talking about the Jedi Knights being the "guardians of peace" in the galaxy "before the dark times, before the Empire." The camera tracks over a jungle landscape as the voice-over continues.
A TIE fighter then zooms overhead and the camera pushes forward to reveal the Death Star looming large in the daytime sky, right up close to the planet. Frantic voices crack over a radio as the title card reveals Star Wars: Rogue One with the word 'Anthology' in small letters beneath. (via IGN)
You can watch a leaked version of the teaser, recorded at the convention via a mobile phone presumably, below:
The panel moderator Pablo Hidalgo also revealed an official logline for the film: "A rogue band of resistance fighters unite for a daring mission to steal the Death Star plans."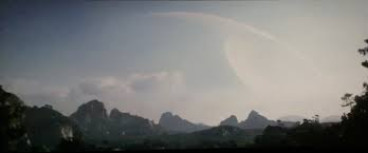 Rogue One will be the first in a series of on-screen adventures exploring stories outside the core Star Wars saga. The movie will be set after Episode 3 (Revenge Of The Sith) and before Episode 4 (A New Hope) in an era without Jedi.
"It comes down to a group who don't have magical powers, who somehow have to bring hope to the galaxy," said Edwards.
About the overall treatment of the film, Edwards stated that the film is aiming for realism, and that it's a no-holds-barred war picture. "It's the reality of war. Good guys are bad. Bad guys are good. It's complicated, layered; a very rich scenario in which to set a movie."
Talking about the Star Wars standalone film idea, Lucasfilm head of development Kiri Hart said:
"We really wanted freedom to do some films that could stand on their own, and tell new stories." Hart also revealed that they're calling them "anthology films."
Felicity Jones, whose casting has already been announced, will play a Rebel soldier involved in the mission. Rogue One starts shooting this summer, and will be released in December of 2016.