State crackdown on dissent feared as four secularist activists 'disappear' in Pakistan
Waqas Goraya, Asim Saeed, Salman Haider and Ahmed Raza have all criticised the authorities.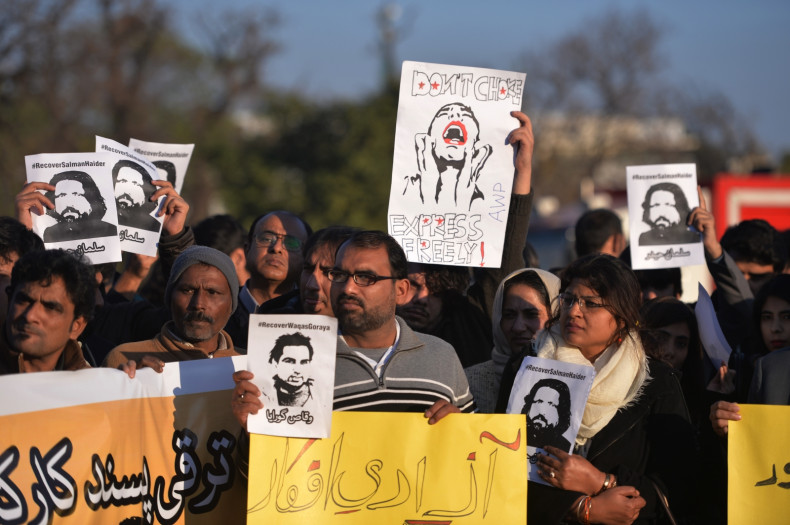 At least four social media activists, known for their secular and anti-militarist views, have disappeared in Pakistan – sparking fears of a crackdown on dissenters.
Intelligence services in Pakistan are known for illegal detentions, but such "forced disappearances" are usually directed against those supporting terrorism or violent separatism, reports the Guardian.
In what appears to be a fundamental tactical shift, outspoken critics of the government – particularly of Pakistan's army – now appear to be targeted.
Waqas Goraya and Asim Saeed disappeared on 4 January, while the relatives of Salman Haider said he vanished on 6 January and Ahmed Raza Naseer on 7 January.
All four were active on social media groups promoting left wing and secularist views, which criticised Pakistan's conservative establishment.
Haider's brother told Al Jazeera that his family is worried about his health as he suffers from a medical condition known as anaphylaxis.
"My brother's wife received a call late at night asking her to pick up Salman's car from an unknown location in Islamabad," Zeeshan Haider said.
"We did find the car but could not see any sign of Salman. It's been four days now and we don't know who and why would anyone kidnap my brother."
Haider has written for Pakistan's largest English-language newspaper, Dawn. He also teaches at Fatima Jinnah Women's University in the city of Rawalpindi, about 15km from the capital, Islamabad.
Al Jazeera reports that last year, Haider wrote a poem about human rights abuses in Pakistan's Balochistan province which included a line about the disappearances of some of his friends. The government of Pakistan has seen resistance from tribes in Balochistan since the country came into existence following India's partition in 1947.
Saeed and Goraya help to run the Mochi Facebook page, which is critical of Pakistan's powerful military.
Relatives of the fourth man, Ahmed Raza Naseer, say he was taken from his family's shop in the Punjab district of Sheikhupra.
In an editorial, Dawn called for all four men to be released. It said: "The sanitised language – 'missing persons', 'the disappeared', etc – cannot hide an ugly truth: the state of Pakistan continues to be suspected of involvement in the disappearance and illegal detentions of a range of private citizens.
"Now, with the disappearance of Salman Haider and at least three other activists, a dark new chapter in the state's murky, illegal war against civil society appears to have been opened.
"It is simply not enough for government and police officials to claim that the disappearances are being investigated. Mr Haider and the other recently missing activists need to be returned to their families immediately – it is surely impossible that several individuals can simply vanish and the state lack the resources to track them down and have them released on an emergency basis.
"The state, because it is the enforcer of the law, cannot be above the law."