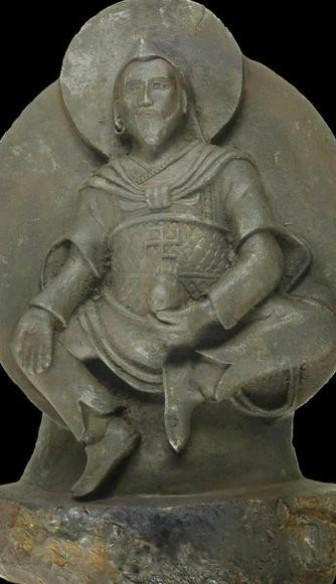 Researchers have discovered an ancient Buddhist statue found by a Nazi expedition in the 1930s had been carved from a highly valuable meteorite.
Scientists say the 1,000-year-old object was carved from the Chinga meteorite, which crashed to earth 15,000 years ago in what is now the Mongolia/Siberia border area.
The statue, known as Iron Man, features a swastika symbol on its stomach - a Buddhist symbol later hijacked by the Nazis. It weighs 10kg (22lbs) and is 24cm tall (9.4ins).
Announcement of its mineral component was made in the journal Meteoritics and Planetary Science.
The object was discovered in 1938 by German scientist Ernst Schafer in an expedition with Heinrich Himmler, chief of the SS.
The statue eventually became part of a private collection and disappeared from view until 2007 when the new owner sought scientific advice on its origins. He turned to Dr Elmar Buchner at the University of Stuttgart.
"I was absolutely sure it was a meteorite when I saw it first, even at 10 metres," said Buchner.
"The statue was chiselled from a fragment of the Chinga meteorite which crashed into the border areas between Mongolia and Siberia about 15,000 years ago.
"While the first debris was officially discovered in 1913 by gold prospectors, we believe that this individual meteorite fragment was collected many centuries before."
Buchner's team was able to classify it as an ataxite, a form of iron with a high content of nickel.
Buchner said: "It is rich in nickel, it is rich in cobalt. Less than 0.1% of all meteorites and less than 1% of iron meteorites are ataxites, so it is the rarest type of meteorites you can find.
"Its origins alone may value it at $20,000; however, if our estimation of its age is correct and it is nearly 1,000 years old, it could be invaluable," Buchner told AFP.
The statue is believed to portray the god Vaisravana.