A three-year-old boy saw his 19-month-old brother murdered by his stepfather almost 50 years ago by swinging him round by the ankles and smashing his head into a fireplace, a court has heard.
David Dearlove is standing trial for the murder of Paul Booth, who died in hospital in October 1968, after an incident at their home in Stockton-on-Tees.
The 71-year-old man denies murder, manslaughter and cruelty at Teesside Crown Court and at the time claimed the child had hit his head after falling out of bed.
The alleged crime went unreported until Paul's brother Peter Booth, who was just four when Paul died, saw a photograph of his brother, being held by Dearlove on Facebook two years ago.
The court heard how Peter claimed to have seen the murder through a crack in a door, reported the BBC.
The Hartlepool Mail reported that Peter had told police on three occasions but the case remained closed until 2015, when he gave a police interview.
Prosecutor Richard Wright QC said: "The police interviewed Peter as a witness for the very first time in 2015. He had not been asked to give any account in 1968.
"What he said in that interview is what has led us here, 50 years on, to the trial of David Dearlove for the murder of his stepson Paul Booth."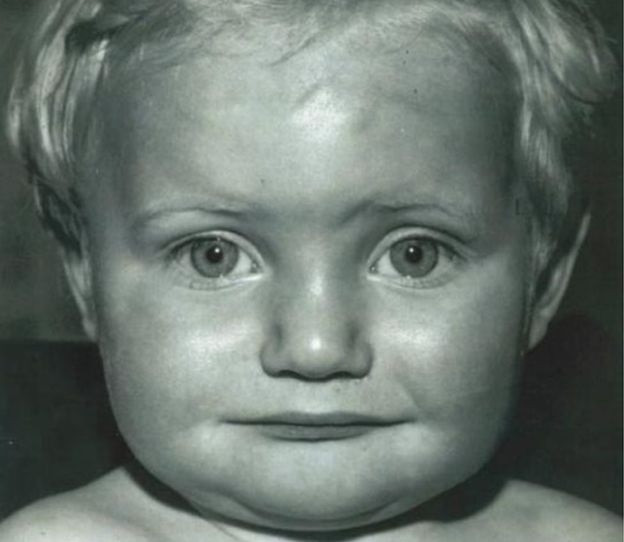 Dearlove, who now lives in Great Yarmouth, was in a relationship with the boys' mother, Carol Booth, for two years from 1968 to 1970.
Carol, who is now dead, had three children at the time and the jury was told Dearlove allegedly abused the children which accounts for the cruelty charges.
Wright told the court of the night of the child's death affirming his brother's claim: "Through a gap in the door into the sitting room he had seen David Dearlove swinging Paul Booth around whilst holding on to his ankles and had watched as his stepfather smashed the little boy's head into the fire surround, causing the fatal injury."
The jury heard that doctors found multiple bruises of "differing ages" and Paul had suffered numerous "non-accidental injuries".
The prosecutor said that Peter Booth contacted David Dearlove Jr to demand he remove the photograph from Facebook and decided to contact police.
The case, expected to last three weeks, continues.