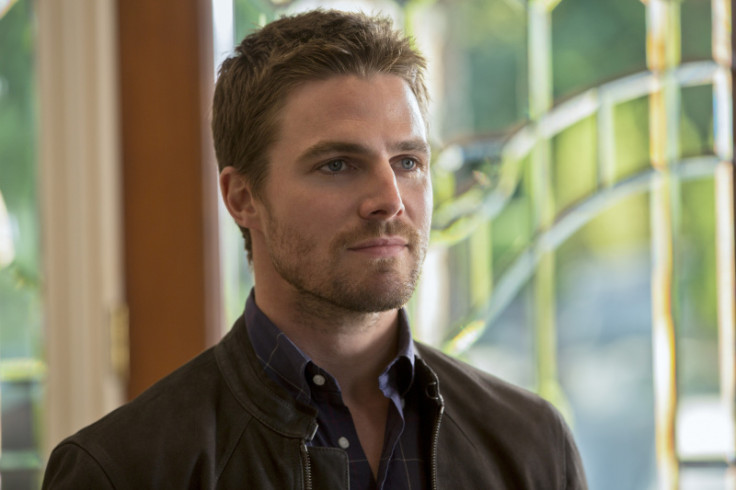 Ever since The Flash and Supergirl aired musical episodes, Arrow fans have been asking series star, Stephen Amell, if they will get see Oliver Queen and his team singing and dancing in the upcoming season of The CW show.
Amell took to Twitter to respond to fans' proposal for a musical episode of Arrow with an old throwback photo of himself. In the picture, young Amell is seen making a face as two little girls around him are trying to learn how to play the piano. Alongside the image, he wrote, "Early evidence that there will never be a musical episode of Arrow".
Fans have hilariously reacted to the adorable post and made a meme of their own. One fan commented, "Maybe tapdance". Some came up with new ideas for Amell to be a part of the musical episode.
Replying to Amell's Tweet a fan wrote, "I feel like the best idea would be for Oliver to roll his eyes and get irritated while they all sing and dance around him."
Another tweeted, "that's legit what I wanted for him to do appear on the crossover musical and just roll his eyes and leave lmao".
"Stephen trying to fight the laughter would've been everything," commented a fan. "yeah 2 c #GreenArrow break into song LOL especially since the character is so serious n dark 2 c him sing a light-hearted song 2 funny," noted another.
Amell, who attended the Portland Heroes & Villains Fan Fest last weekend, spoke about how he wants Oliver to be in season 6. He was quoted as saying by Cinema Blend, "I've said that it's very, very important that if Oliver doesn't take away lessons from Season 5 and doesn't keep doing the things that have led to this catastrophic event, the character stops being interesting to me."
"So I hope that part of that, in Season 6 and if we have seasons beyond that, I hope that part of that is we get back to a lot of the tenets that people recognize from the comics. And that of course is humor and a socially conscious, slightly liberal superhero," he added.
The 36-year -old actor wants the Green Arrow to be closer to the version in Comic Books. He said at the panel, "The comics version, he has some really interesting qualities that make him unique, and I hope we get to explore more of those."
Arrow Season 6 will premiere on Thursday, 12 October at 8pm EST/PST on The CW Network.