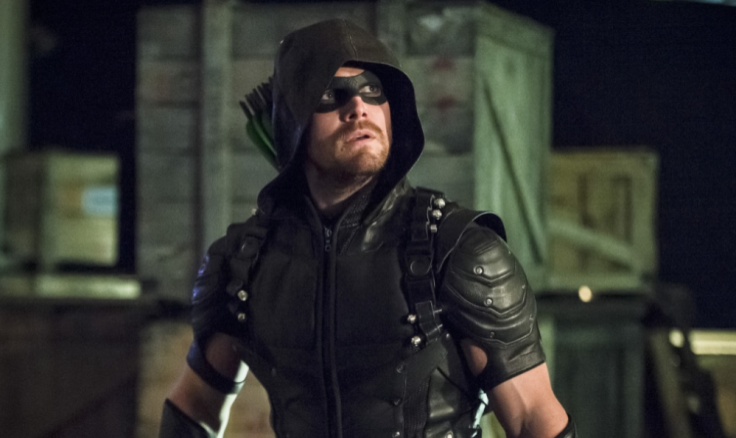 Stephen Amell has revealed the first look of Oliver Queen in Arrow season 5. The actor took to Twitter and posted a behind-the-sets image of what seems like a fight scene. The show, which is currently being filmed, will return with new episodes on 5 October on The CW.
In the image posted on the micro blogging site, the Arrow actor can be seen with blood on his body. Alongside the image, Amell wrote, "Here's your S5 [season 5] poster."
Further, in a Q&A session on Twitter, the actor revealed some interesting details about his new Arrow suit. When asked by a fan, "How is the new Arrow suit treating you so far?" Amell replied, "Sweat. So much sweat."
The Canadian actor also shared that he was filming certain scenes with newbie Rick Gonzalez and welcomed him to the Arrow family. He tweeted, "@officialrickg is a boss. Welcome him to the family, please." Later Gonzalez thanked Amell for the tweet.
The Teenage Mutant Ninja Turtles 2 actor has been quite active on social and has been sharing updates of Arrow season 5. He previously revealed filming dates and later tweeted about former WWE star Stardust aka Cody Rhodes appearing in season 5.
At the Heroes & Villains FanFest 2016, Amell spoke about Oliver and Felicity's relationship in season 5. He shared, "I was chatting with a couple of fans earlier and they were saying there hasn't been a lot of positivity and reassuring notions when it comes to Oliver and Felicity's relationship. I think that it's important to remember that relationships on the show don't have to be only defined by romance. Oliver and Felicity could have a wonderful, fulfilling, dynamic relationship and not be together, right?"
"That's how the world works! So we will see where they are this year. I hope that they're both in a happy positive place. Whether that means they're together or not remains to be seen," the actor added.