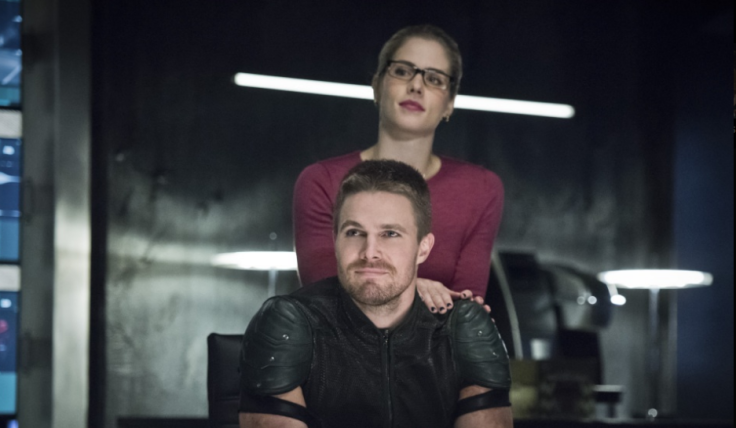 Actor Stephen Amell has shared some filming updates for the upcoming season of Arrow and teased that Oliver Queen and Felicity Smoak will have a "wonderful relationship" in the season 5 of The CW series.
The Teenage Mutant Ninja Turtles 2 actor also shared on Twitter: "#Arrow Season 5 starts tomorrow. Today: Hot Dogs. Maybe beer. (Probably.)" This officially means filming for the next season of the CW show has already started.
Earlier, at the Heroes & Villains FanFest, Amell had spoken about Oliver and Felicity's dynamics going into season 5. He said (via TV Line), "I was chatting with a couple of fans earlier and they were saying there hasn't been a lot of positivity and reassuring notions when it comes to Oliver and Felicity's relationship. I think that it's important to remember that relationships on the show don't have to be only defined by romance. Oliver and Felicity could have a wonderful, fulfilling, dynamic relationship and not be together, right?"
The Arrow actor's comments on Olicity seemed to have miffed fans and to pacify them, he clarified, "That wasn't a question, OK. That's how the world works! So we will see where they are this year. I hope that they're both in a happy positive place. Whether that means they're together or not remains to be seen."
According to the actor, season 5 will focus on the "core mission" going forward. He said, "The villain that we are introducing is a direct result of things that Oliver has done in Star City [and] calls back to a lot of things that happened in the first season of the show."
"It really grounds the show and really focuses on its core value, which is the battle to save Star City...The first two episodes [of Season 5] refocuses us on what the core mission of the show should be, and that to me is very exciting," he teased.
Arrow season 5 will premiere on 5 October on The CW network.