Stephen Hawking shocks University Challenge viewers by presenting trophy to Balliol College, Oxford
Physicist claims to be a big fan of the show.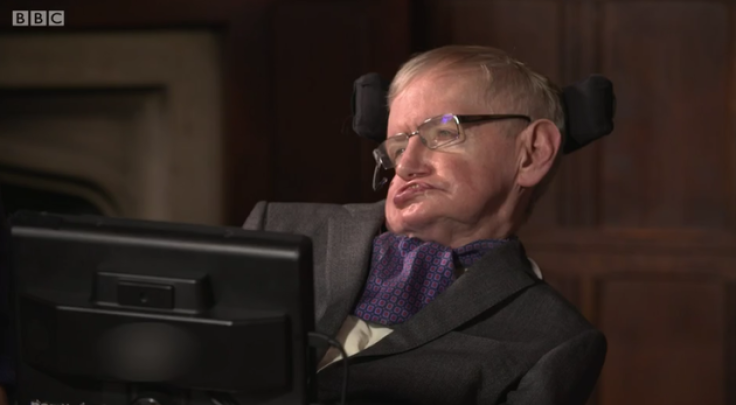 University Challenge viewers were left in shock when physicist Stephen Hawking presented Balliol College with a trophy on Monday night's (10 April) episode.
After the Oxford team beat Eric Monkman and his Wolfson College, Cambridge clan – taking the final with a 50 point lead – the excitement rose furthermore when the legendary 75-year-old graced the show with his presence.
The winning quartet received the 2017 trophy by Hawking and were congratulated by host Jeremy Paxman, who told Wolfson there was "no shame in being runners up".
Cambridge-based Hawking said: "I have said in the past that it is not clear whether intelligence has any long-term survival value – bacteria multiply and flourish without it.
"But it is one of the most admirable qualities, especially when displayed by such young minds.
"Many congratulations to both teams but especially to Balliol College Oxford on becoming series champions on University Challenge, a programme I have long enjoyed," he added.
Fans of the quiz show took to social media over the famous physicist's appearance, with many referring to the moment Monkman met Hawking.
One put: "Find someone who looks at you the same way Monkman looks at Stephen Hawking. #UniversityChallenge" as another wrote: "the look of pure joy on #monkman when standing next to Stephen Hawking. Only winners in that final #UniversityChallenge".
A third added: "Wow, he gets to meet a legend of our times. Very jealous of Hawking getting to meet Monkman #UniversityChallenge".
Monkman wrote on Twitter: "Thank you as well to Professor Stephen Hawking. It was a great honour to meet one of my childhood (and current) heroes."
Monkman caused a sensation earlier in the competition when he secured 120 out of his team's winning 170-point score in one round, leading to the hashtag #Monkmania going viral across social media.
© Copyright IBTimes 2023. All rights reserved.