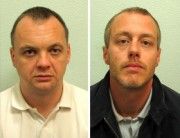 It has been over a week since the 12-person jury were sworn in at the Old Bailey for the trial of the two men accused of murdering 18-year-old Stephen Lawrence in a 1993 racist attack.
Gary Dobson, 36, and David Norris, 35, both of south London, deny murdering Lawrence at a bus stop in Eltham 18 years ago.
Ahead of the trial, the judge told jury members to ignore anything they may have heard or seen about the murder and to base their decision solely on what they hear in the courtroom.
A great deal of evidence has been presented since the trial began last week.
Here is a summary of what they have been shown so far.
How he was murdered
Lawrence bled to death after being stabbed twice in a 10-second attack, severing two arteries.
He was attacked by a gang of white youths, one of whom allegedly shouted: "What, what, nigger?"
Medical evidence suggests Lawrence was stabbed once while standing and once while on the ground, both times in the torso.
He somehow managed to run 220 yards after being attacked, despite bleeding very heavily, before collapsing on the ground.
Paramedics found no signs of life and Lawrence was declared dead at hospital.
What the witnesses say they saw
Duwayne Brooks, Lawrence's friend who was with him when he was attacked, gave a tearful account of what he saw.
As he ran away from the gang, Brooks called out for Lawrence to "run".
Lawrence eventually caught up with Brooks.
"Blood was streaming out around his neck and through his jacket," he said.
He added that he saw a "shiny" weapon about a foot long and thought he saw Lawrence hit on the head with a metal bar.
Under cross-examination, a statement Brooks made in 1995 was read out to him. He said he was suffering from post-traumatic stress disorder at the time.
Royston Westbrook, a hospital worker who was at the scene, said he heard the two black men chatting about football, before a group of white men "collided" with them.
"I saw them surround Stephen and he went down, basically through sheer weight of numbers in the middle of them... It looked at the time that someone went to punch him," he told the court.
"From my viewpoint, it was a completely unprovoked attack. They did nothing to justify it," he said.
Conor Taaffe was a passer-by to the attack's aftermath. He had just left a nearby church meeting before stumbling across Lawrence, who he saw "crash" to the floor while clutching his chest.
Taaffe went to help.
"I was holding his head and back and prayed over him in a whisper and said things like 'bless him, Lord Jesus'."
"I put my right hand on his back and left hand on his head. I could feel he was still breathing, as his back was moving up and down."
His wife, Louise Taaffe, was also there. Lawrence had been "breathing and gasping for air", she told the court.
"At no point did he struggle or speak. He seemed very peaceful," she said.
Joseph Shepherd, Lawrence's neighbour, said a group "charged" at Lawrence and Brooks.
"They bundled in on top of them, they were shouting and cheering as they were running and attacking," Shepherd said.
Blood-stained clothing, fresh forensic evidence and covert photos
The jury was shown blood-stained clothing worn by Lawrence on the night he was murdered.
His ripped LA Raiders jacket, his torn polo shirt, a blue cardigan with a slashed hole near the shoulder and green cord trousers were all displayed.
A 2007 cold case review found new forensic evidence, obtained using methods unavailable at the time of the murder.
A grey bomber jacket seized from Dobson had initially shown no evidence of blood from Lawrence, but the new techniques discovered traces of it on the collar.
This, the prosecution claimed, is evidence that Dobson was involved in the attack.
Norris, too, was involved because two of Lawrence's hairs were found in an evidence bag containing jeans seized from his home.
There have also been police surveillance photos, taken of Dobson and Norris, that the prosecution has claimed proves Dobson lied to police.
"Gary Dobson did not mention, in his taped police interviews, his co-defendant David Norris. Indeed he denied knowing David Norris, saying... he had heard the name mentioned once or twice, but did not know who he was and had not met him," Mark Ellison QC said.
"Prior to their arrest in May 1993, Gary Dobson and David Norris had, in fact, been photographed together by police," he added.
What the defence says
The defence has argued that this new forensic evidence is fatally flawed, as the blood found on Dobson's jacket and the hair in Norris's evidence bag are a result of cross-contamination of evidence due to police incompetence and carelessness.
This is only a "pinch of material", they claimed.
Timothy Roberts QC, Dobson's barrister, also said that Dobson was at his parents' house at the time of the attack and was not involved.