Steve Bannon, the US presidential aide who has been described as everything from a white supremacist to the person who is truly running the country, may soon be out of a job if the rumour mills in Washington are to be believed.
It has only been a matter of days since the White House chief strategist was removed from the National Security Council – a move described at the time as a reshuffle rather than demotion – and his future looks even less secure after a quick succession of put downs by Donald Trump.
In two separate interviews, Trump appeared to downplay both Bannon's role in getting him elected – describing how he is his "own strategist" – as well as his overall power and influence.
When Trump was asked by the New York Post's Michael Goodwin whether he had faith in Bannon, the president responded: "I like Steve, but you have to remember he was not involved in my campaign until very late.
"I had already beaten all the senators and all the governors, and I didn't know Steve. I'm my own strategist and it wasn't like I was going to change strategies because I was facing crooked Hillary."
Soon after these remarks, The Wall Street Journal noted how Trump appeared to swat away suggestions Bannon is a key influence in his decision making, calling him "a guy who works for me".
Trump's comments were downplayed by White House officials as a "dressing-down and warning shot", as reported by the Washington Post. However, a friend of Bannon told the paper the president's backlash against his adviser is more akin to "a terminally ill family member who had been moved into hospice care".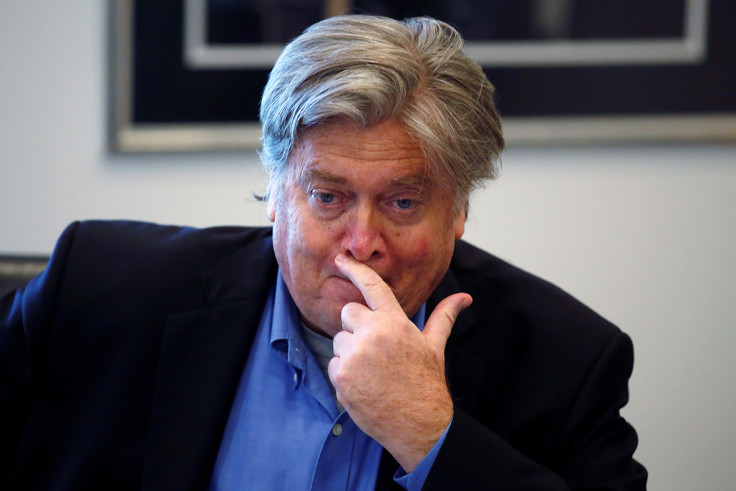 The countdown to Bannon's exit seems to have resulted from weeks of infighting between fellow White House staff members, most notable senior adviser Jared Kushner, who, unfortunately for Bannon, is married to Trump's eldest daughter Ivanka.
The pair's fallout resulted in White House Chief of Staff Reince Priebus forcing the pair to take part in crisis talks where they can air out all their political grievances. Kushner is said to be trying to push Trump towards more mainstream policies, rather than the ones which saw him win last November's election.
Bannon is the former editor of Breitbart who is described as being the key reason for the site becoming a "white ethno-nationalist propaganda mill", according to the Southern Poverty Law Center. He was said to be the main architect behind the shot-down plans to stop refugees from seven predominately Muslim countries from entering the US.
When asked about the feud, Trump said: "Steve is a good guy, but I told them to straighten it out or I will."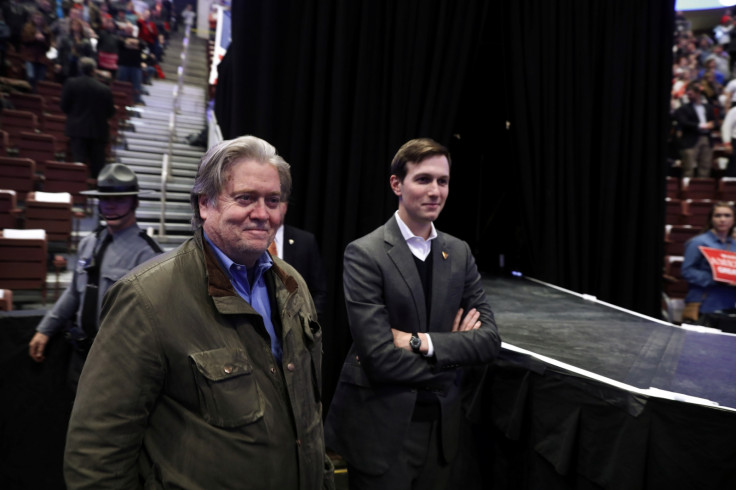 Ned Ryun, founder of the conservative group American Majority, told the Associated Press: "It would be a terrible signal if Trump were to either force Bannon out or let him go because he is the face of the national populism that inspired a lot of voters to vote for Trump.
"And what makes it even worse right now is that people have deep concerns about liberal New York Democrats associated with Goldman Sachs coming in and making strong moves at the White House."
Trump is also said to be unhappy with media depiction of Bannon. However, it is not the negative descriptions of Bannon which he in concerned about, but more that he is portrayed as the actual man in charge at the White House, with Trump his puppet.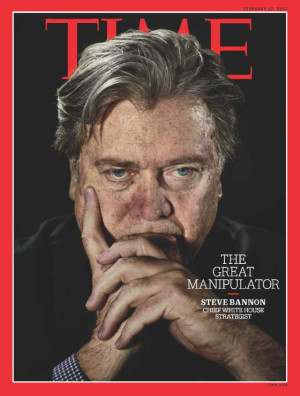 Recent examples include a Time magazine cover story on Bannon describing him as ''The Great Manipulator'', being portrayed on Saturday Night Live as the Grim Reaper pulling the president's strings, as well as the Democrats branding him President Bannon to highlight his apparent influence over Trump.
As Trump edges closer to reaching 100 days as president, it remains to be seen if one his most controversial appointments to the White House in his attempt to ''Drain the Swamp'' will still be with him.
"Bannon is a brilliant pirate who has had a huge impact," said former House speaker Newt Gingrich. "But White Houses, in the end, are like the US Navy – corporate structures and very hard on pirates."