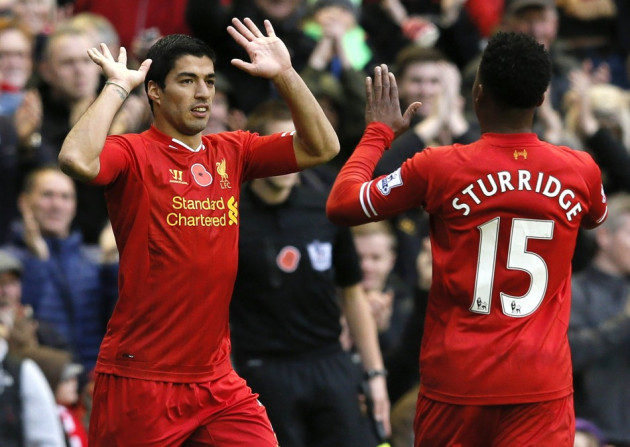 Liverpool star Steven Gerrard has admitted that he had doubts over Luis Suarez playing alongside Daniel Sturridge to lead the Reds' strike force.
The former Chelsea man has been a star for Brendan Rodgers' side this season and was impressive during Suarez's absence as he missed the start of the season due to suspension. The Uruguayan international returned to action in late September and since then the two have been in fine form.
Sturridge and Suarez have scored eight goals each for Liverpool and are joint top scorers with Manchester City striker Sergio Aguero. Sturridge and Suarez share 16 goals amongst them, which has seen Liverpool sit second in the table, trailing league leaders Arsenal by two points.
Gerrard has always played with one star forward up front and is delighted to have two star strikers at Liverpool. The England skipper hailed his compatriot for growing as a player and has backed him to become one of the greatest players at Anfield.
"I will be honest and say that at the start, I wasn't sure whether it would work. But it has clicked without much work in training. I'm excited as I think it can get better," Gerarrd told the Daily Mail.
"It's a dream, an absolute dream. I have always played with one top forward through my career here. Now there are two main men and it is great."
"Daniel has grown as a player. He has been great for Liverpool but Liverpool have been great for him. If he keeps listening to the right people, he can improve," Liverpool skipper added.
Meanwhile, Gerrard rejected a chance to get into a war of words with former Manchester United Sir Alex Ferguson after the Scot had claimed the Reds midfielder is a not "a top, top player."
"Listen, he's entitled to his opinion. I'm a fan of his; he is one of the best managers in the world. I won't lose any sleep over it," Gerrard stressed.
"Throughout my career I have had praise from all types of people - including him - and I am not vain enough to take it all. I have had some unbelievable praise from him and he tried to buy me, certainly on one occasion. Maybe even two."