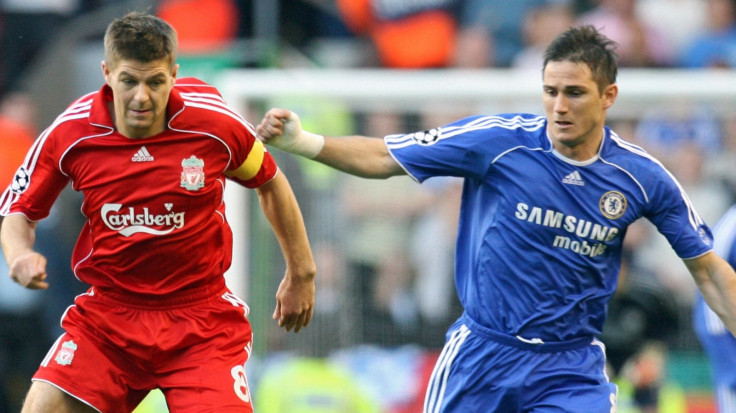 After a combined 1,110 appearances, 295 goals, 120 yellow cards, nine red cards and a bucket load of memories, two of the Premier League's great institutions take their bow on the final weekend of the 2014-15 campaign.
Though Frank Lampard and Steven Gerrard leave English football as two of the greatest midfielders to ever grace it, the comparisons between them, the lengthy pub debates over who you would prefer and headaches suffered by England managers across the past decade somehow work to define their respective careers together in the top flight.
Lampard was arguably the most brilliantly consistent player the league has ever seen. The highest-scoring midfielder in Premier League history and in no danger of being caught anytime soon, scored at least 10 goals in 10 straight seasons from 2003 to 2013, including 22 in the 2009-10 campaign.
Such unique statistics indicates not only outstanding qualify but a professionalism and commitment to conditioning that is an undervalued facet required of the modern-day sporting star.
Lampard sealed Chelsea's first Premier League title
But the Romford-born player was not merely a metronomic accumulator of stats, his impact will forever stand the test of time. Goals from long range may have been his speciality but it was those from close up for which he will be best remembered, with two coming as he clinched Chelsea's first league title for 50 years against Bolton Wanderers.
From the penalty spot, Lampard was equally as influential, often propping up a dogged Chelsea display with a match-winner from 12 yards; so often Lampard was the no-thrills difference-maker.
Gerrard's very best always saw him portrayed as the polar opposite. The Liverpool skipper was all-action, as heart-on-the-sleeve Merseyside boy who would literally run through walls in order to give his side a glimmer of hope.
Such a style meant, aesthetically at least, Gerrard's impression in matches was easier to gauge. He would leave his mark on games, either with a crunching tackle or an arrowing shot into the top corner. Gerrard did nothing by halves and that lends itself to his legacy.
Gerrard was unplayable at times
A failure to win a league title only adds to the Liverpool man's make-up as a roll-the-dice player. Alongside Thierry Henry, there was a four or five-year period where he was close to unplayable in the top flight and yet he cut the figure of a flawed genius.
The main reason both Lampard and Gerrard were and are so often compared was how in fulfilling the same role as an inspirational midfield figure, they did it in alternative ways. Undying consistency or undying commitment, the choice was yours.
But perhaps in their contrasting styles, there is an answer to one of English football's great questions. Lampard is almost old school, a results-based professional. Gerrard is Roy of the Rovers, as likely to break your heart as capture it. They were all things to all people. Does that settle it?