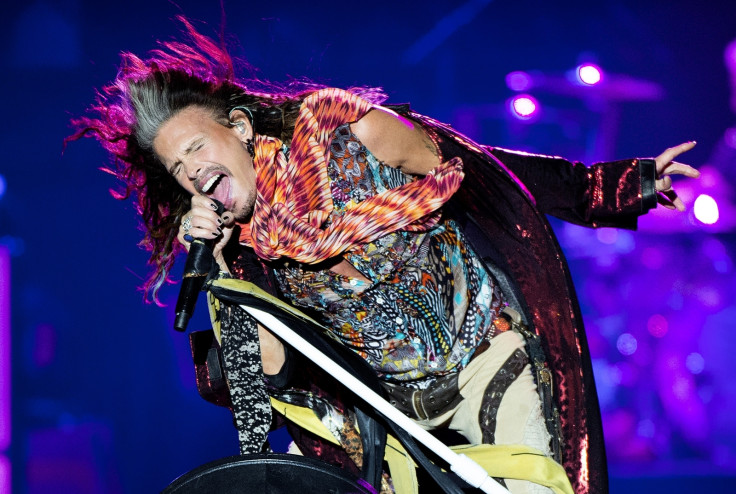 Fans of Aerosmith and Steven Tyler expressed concern after the band announced that it was cancelling the last leg of its South America tour over its lead singer's "unexpected medical issues". According to a statement posted online, the 69-year-old is seeking immediate medical care and has been advised by his doctors not to travel or perform for a while.
The band was expected to perform in Curitiba, Brazil, on 27 September; Santiago, Chile, on 30 September; Rosario, Argentina, on 3 October; and Monterrey, Mexico on 7 October, but have been compelled to cancel the four final shows of the Latin leg of their Aero-Vederci Baby! tour.
"To everybody in South America... Brazil, Chile, Argentina and Mexico... I'm very sorry and feel like I've let you down... I won't be able to continue the last four shows of this tour. I flew back to the US on doctor's orders last night after the show in Sao Paulo," Tyler said in the statement which was shared on Twitter on Tuesday (26 September).
The Pink hitmaker managed to put fans a bit at ease when he confirmed that he was "not in a life-threatening condition".
"But I need to deal with this right away, and get some rest and medical care immediately in order to sustain and maintain my future performances," he continued. "I promise I'll be back... unfortunately, health does not wait and it's something even I can't schedule around our shows... As they say, 'We humans make plans, and God laughs.....'"
In August 2016, Aerosmith guitarist Joe Perry was rushed to the hospital after collapsing backstage at a concert with his other band Hollywood Vampires.
Last year, Aerosmith announced that Aero-Vederci Baby! was meant to be their farewell tour but gave no definite idea if they would perform together again. "We're doing a farewell tour, but only because it's time," Tyler told radio host Howard Stern back in 2016.