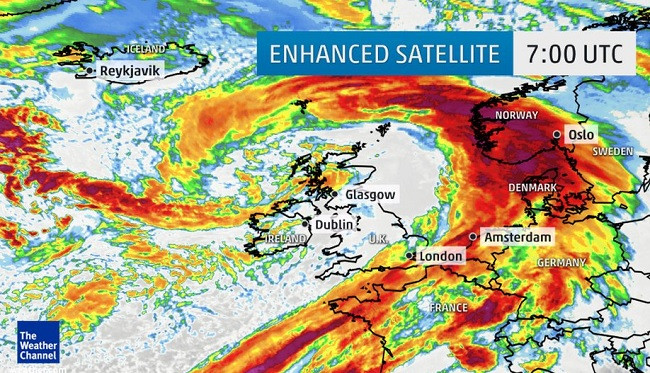 Heavy rain and strong winds are set to hit most of the UK today which could bring disruption to transport and cause localised flooding
The wet conditions are being triggered by the Atlantic cyclone, dubbed Storm Rachel, which battered the country overnight, continues to pass through the north of the Outer Hebrides this morning, and is expected to move across the north of Scotland to the North Sea until Friday.
The Met Office has issued yellow warnings for rain and wind - meaning possible minor delays to transport and flooding – across Northern Ireland, Scotland, Wales and southern England as gusts are expected to reach 70mph in places.
Leon Brown, a meteorologist at The Weather Channel UK, said: "The strongest winds are more likely later on Thursday across many parts of Ireland, south Scotland, Wales and north to central England as a very strong west-south-west gradient develops to the south of the low pressure centre.
"[The weather front is] very unstable too, which means high gusts, and damaging gusts during Friday, not easing down until Thursday night. Winds may reach their peak later in the afternoon and evening across North Midlands and North England so take great care if driving."
Today in the south east the weather will become brighter, with scattered showers over much of England and Wales, but Scotland to north England and Ireland will experience heavier rain, sleet and hill snow.
Winds are expected to ease tomorrow (16 January), but freezing temperatures are expected over the next few days.
Brown added: "There is a risk of some more widespread snow early next week as an occluding Atlantic front slides down the western side of the UK, but could push further east to bring a spell of snow later on Monday and Tuesday."