A wave of strong earthquakes shook central Italy in the morning of 18 January, the Italian earthquake institute INGV reported.
The first had a 5.3 magnitude and struck around 10.25am local time (9.25am GMT), the second earthquake of 5.4 magnitude followed less than an hour later (10.15am GMT). A third one of equal magnitude struck 10 minutes later, at 10.25am GMT.
The epicentre was near L'Aquila, the town in the Appenini mountains that was largely destroyed by a powerful quake in 2009. The tremors, felt around the area affected by other strong quakes in August and October 2016 in the Umbria, Marche and Abruzzo regions, was also felt in Lazio, where Rome is located.
Line A and B of the Rome metro were evacuated and closed down. The motorway A24 connecting Rome, L'Aquila and Teramo was also shut down as the authorities evaluate damages from the quake. Schools in Rome, and in other towns, evacuated their students as a precaution.
In the Marche region, on the east coast of Italy, an avalanche alert was issued by the regional civil defence (Protezione Civile in Italian).
Three farmers who were feeding their animals are reportedly missing in the mountains near Colle di Arquata, at the border between March and Lazio. The mayor of Arquata Aleandro Petrucci alerted the firefighters, since the farmers' families could get in touch with them, he told SkyNews Italy.
He was hoping it was just a matter of bad phone reception, but he worried as the area is covered in thick layers of snow. "We hope for good news because we already had many deaths in August", he said. Other 12 farmers who were missing were found in good health.
There are still thousands of people who live in makeshift accommodations or tents – having lost their homes to previous earthquakes – who are facing a cold winter and snowstorms. In some areas, more than 1 metre and a half of snow has fallen in the past few days, leaving some people isolated, without electricity, and complicating relief efforts.
The head of the civil defence Fabrizio Curcio told SkyNews Italy that the winter weather has aggravated the already dire situation in the area. "We had some [buildings] collapsing over night due to the snow".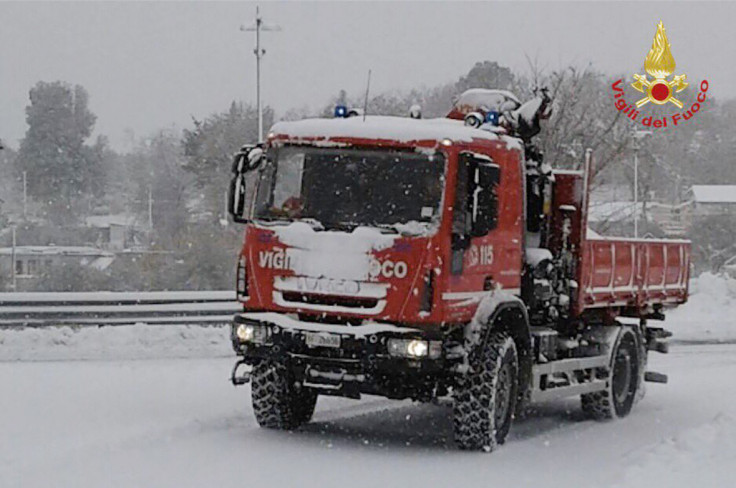 He explained that structures that were weakened by the repeated earthquakes (more than 45,000 waves of various strength have been felt since August) are now more frail than ever due to the weight of the snow.
Local media reported that the bell tower of the Church of Sant'Agostino in Amatrice collapsed following the earthquake. A journalist from SkyNews Italy confermed the collapse.