Some 25,000 people have been displaced from their homes following the latest earthquake in central Italy, according to officials.
Italy's Civil Protection Agency said around 8,000 of those were being housed in hotels and temporary shelters following the 6.6 magnitude quake, which struck close to the town of Norcia in Perugia province on 30 October.
Experts say the quake was the most powerful to strike the country in 36 years and warned that there may be larger aftershocks.
"We cannot exclude the possibility of larger magnitude aftershocks," Margarita Segou, a seismologist at the British Geological Survey, told Associated Press.
The latest quake caused extensive damage to buildings in the regions of Umbria and Marche, but there are no reports of fatalities or serious injuries.
It came four days after the region was struck by two earthquakes – of 5.5 and 6.1 magnitude, respectively – causing widespread damage and injuring dozens.
Norcia and the nearby towns of Castelsantagelo, Preci and Visso were reported to have been largely abandoned when the latest quake struck, with many residents sleeping in cars and others moving to the coast.
Among the buildings destroyed was the 600-year-old Basilica of St Benedict in Norcia.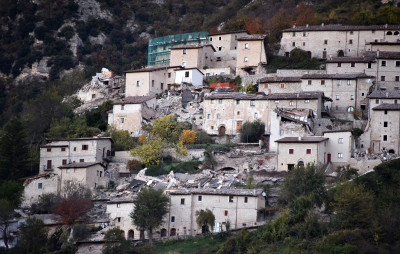 "This is a tragedy. It is a coup de grace. The basilica is devastated," Bishop Renato Boccardo of Norcia told the Reuters agency.
"Everyone has been suspended in a never-ending state of fear and stress. They are at their wits' end."
Speaking hours after the quake struck, Italy Prime Minister Matteo Renzi said all the homes, churches and other buildings that were destroyed would be rebuilt.
"We will rebuild everything, the houses, the churches and the businesses," he was reported as saying.
"Everything that needs to be done to rebuild these areas will be done."
The president of Italy's National Institute for Geophysics and Vulcanology told AP that the series of earthquakes in Italy over the past few months were not out of the ordinary and warned that there may be further aftershocks.
"It is normal for the Apennines," Carlo Doglioni said. "We can expect some 5 magnitude quakes and many of magnitude 4."