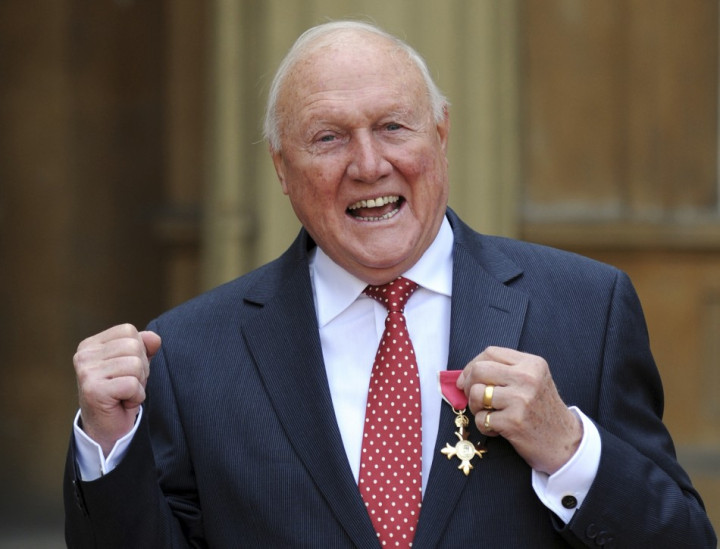 Veteran BBC broadcaster Stuart hall has protested his innocence in the wake of his child abuse charges while condemning the police who arrested him.
The football commentator and former It's a Knockout presenter also criticised "leaks to the media" which gave misleading information about his case.
Hall, 82, has been charged with three counts of indecent assault of girls aged between nine and 17. He was as arrested at his home in Wilmslow, Cheshire, by Lancashire Police for the incidents alleged to have taken place in the 1970s and 80s.
His solicitor Louise Straw read a statement on his behalf to BBC Radio 5. It said: "Stuart Hall is innocent of these charges. It is a matter of concern that in the week following the publication of the Leveson report, there appears to have been systematic leaks to the media which have given a misleading impression of what this case is about.
"Stuart Hall was not afforded the opportunity to attend voluntarily at the police station. In due course, the decision that he should be arrested will be the subject of some scrutiny.
"Stuart Hall is innocent. There will be a trial and his defence will then be in the public domain."
John Dilworth, of the Crown Prosecution Service, said: "Following investigations into allegations of sexual assault by Stuart Hall, I have reviewed all the evidence that they have gathered and have authorised Lancashire police to charge him with three counts of indecent assault.
"The charges are that between 1 September 1974 and 31 December 1974 he indecently assaulted a woman who was then aged 16 or 17 years, that between 1 January 1983 and 31 December 1983 he indecently assaulted a girl then aged 8 or 9 years, and that between 1 July 1984 and 27 September 1984 he indecently assaulted a girl then aged 13 years. He has been bailed to appear at Preston magistrates court on 7 January 2013.
"This decision is made in accordance with the code for crown prosecutors and I have concluded that there is sufficient evidence for a realistic prospect of conviction and that it is in the public interest to prosecute this case."
The BBC confirmed Hall will not be working at the BBC while the police continue with their inquiries.
Hall is best known for his florid commentating style and has been a broadcaster for the past 50 years. Last December he was awarded an OBE in the Queen's New Year Honours list for services to broadcasting and charity.