The student who boasted about "poisoning" her black roommate by rubbing bodily fluids and mould on her toiletries and food has been expelled and faces a possible hate crime charge.
Brianna Brochu was arrested on 28 October after she wrote on Instagram that she "got rid of" her college roommate Jazzy Rowe by "putting mooldy clam dip in her lotions, rubbing used tampons on her backpack, putting her toothbrush places where the sun doesn't shine and so much more."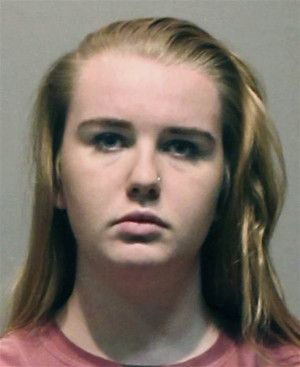 The University of Hartford freshman boasted that she had succeeded in driving out Rowe, who she referred to as "Jamaican Barbie."
Rowe said in a Facebook video that she had suffered from "extreme throat pain" as a result of Brochu's tampering with her personal items. Medical tests revealed that Rowe had "some type of bad bacteria" lodged at the back of her throat.
Brochu appeared in court on Wednesday (1 November) where she was charged with second-degree breach of peace and third-degree criminal mischief.
Police have said they are asking courts to charge Brochu with "intimidation based on bigotry or bias."
She is currently free on $1,000 bail.
Rowe, along with her supporters who have the social media campaign #JusticeforJazzy, say that Brochu is guilty of carrying out a "racial hate crime."
"Briana Brochu was sent to college as a racist & her parents should now watch her go to prison as one. This is a hate crime!" one woman wrote on Twitter.
"Briana Brochu is repulsive and evil. She needs to be charged with multiple hate crimes and given a lengthy prison sentence," another said.
Brochu, who won a $20,000-per-year art scholarship to the Connecticut university, has been expelled following her arrest, according to President Greg Woodward.
He condemned what he described as a "deeply upsetting" incident of bullying and said Brochu "will not be returning" to the university, in an email sent to students and staff on Wednesday (1 November).
"As of this morning, Brianna Brochu is no longer a student at the University of Hartford," the email read.
"Let me be clear: the accused student's behavior was reprehensible and does not reflect the values of our institution," he said. "Let me repeat; racism and hatred will not be tolerated on this campus."
Students were given the opportunity to suggest how similar incidents of racial abuse and bullying could be prevented in future at a meeting with President Woodward on Wednesday.
"The President of the school was on hand to answer any questions about protocol. He shed a few tears because it is just so early for him to be going through something of this caliber," student Hasani Hashim Blake Jr. told IBTimes UK.
Blake Jr. said racism is an issue at the University of Hartford. "Around the time of the US election last year there were Swastikas imprinted in bathrooms," he said. "We are looking to implement something that will let people know about racism. More people need to learn about racism overall."
<sup>Note: This article has been updated to correctly reflect the potential charges faced by Brochu.