Thousands of Tibetan Buddhist monks and nuns gathered for the annual Utmost Bliss Dharma Assembly. The last of four annual assemblies, the week-long gathering takes place in the ninth month of the Tibetan calendar and marks Buddha's descent from the heavens.
The event was held at the Larung Gar Buddhist Institute in Sertar county, in the remote Garze Tibetan Autonomous Prefecture, Sichuan province, China. It lies at an elevation of 4,000m (13,123ft). The nearest large city is Chengdu, about 650km away.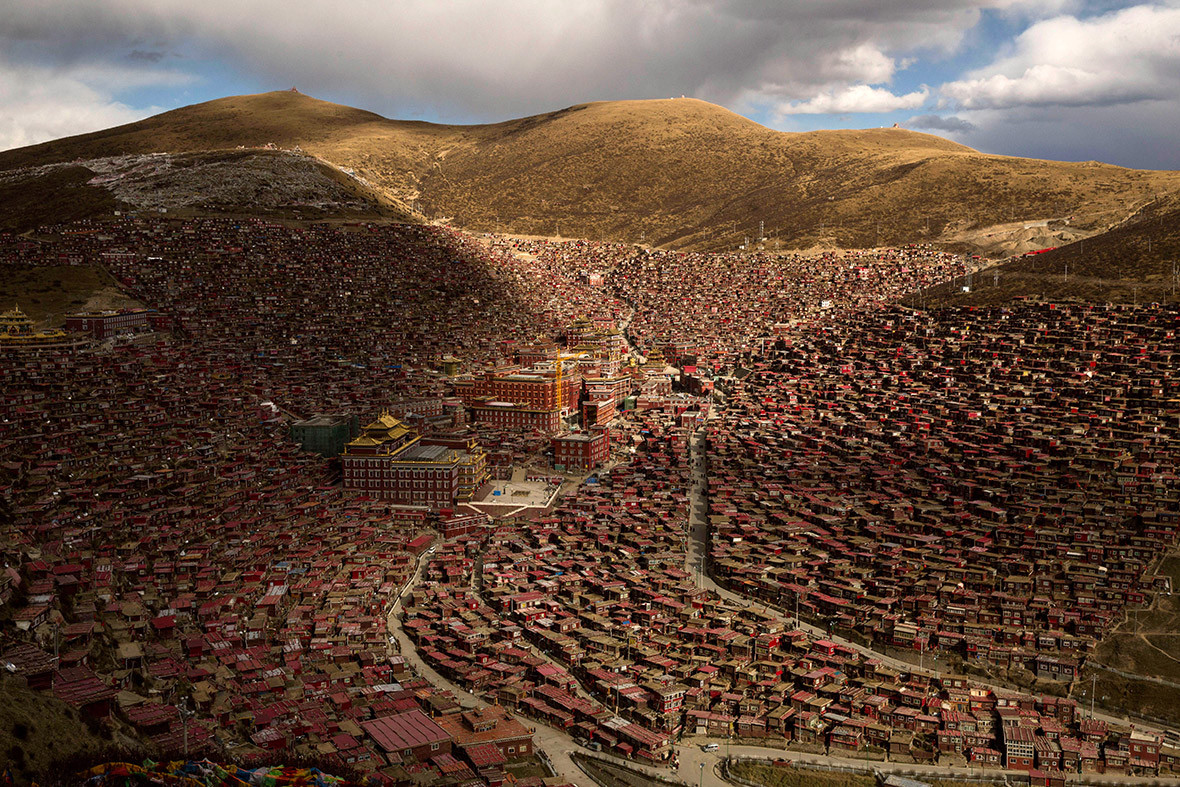 Getty Images photographer Kevin Frayer, who has previously covered Tibetan Buddhist religious festivals and documented the challenges faced by nomads on the Tibetan Plateau, visited the institute. He told IBTimes UK: "This trip was part of an ongoing project looking at nomadic people on the Tibetan plateau. It is an incredible part of the world. Sertar sits in a valley at an altitude of about 4,000m and for most of the year the closest airport is at least a 12-hour drive away. The road is bumpy and long, but the place is breathtaking."
The institute was founded in 1980 by Khenpo Jigme Phuntsok, an influential lama of the Nyingma sect. Despite its remote location, it grew from just a handful of disciples meeting at Khenpo's house, and is now the world's largest and most influential centre for Tibetan Buddhist studies.
The institute houses up to 40,000 monks and nuns, who come to study various schools of Tibetan Buddhism. The Chinese authorities have imposed a perimeter road, outside which construction is not permitted. Houses for monks and nuns continue to be added within the perimeter, packed tightly in the valley and surrounding mountains. A road winds through the middle of the settlement, separating the male and female encampments.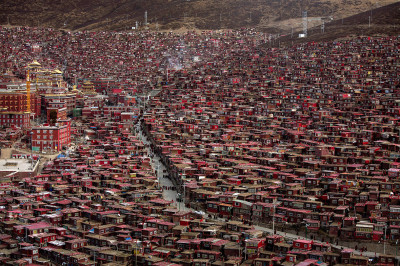 Frayer said the Utmost Bliss Dharma Assembly "was the final prayer of four in the year so it was significant. There were thousands of people; monks, nuns and lay people listening to recitations and attending chanting sessions. There was no pageantry like other Tibetan Buddhist rituals, but people seemed happy. For many of them it was a pilgrimage that they made on foot and they camped. It was special to be able to see it."