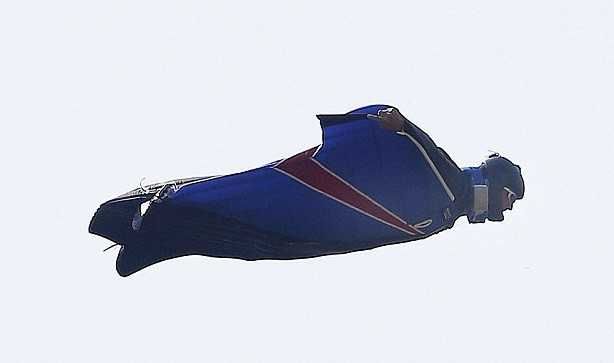 Daredevil stuntman Gary Connery has become the first person to fall 2,400 feet and land safely without using a parachute.
The 42-year-old father of two became the first person to achieve this feat after jumping from a helicopter over Ridge Wood in Buckinghamshire.
Connery's eventually crashed down into some strategically places cardboard boxes in Temple Island Meadows, on the Buckinghamshire and Berkshire border.
Professional stuntman Connery was able to land without using a parachute thanks to a specially designed wing suit. The whole fall took less than a minute and was only given the green light because of the perfect weather conditions.
After jumping out of the helicopter, Connery managed to pick up speed of around 80mph after just three seconds.
Connery, who has appeared in films such as Batman begins and Die Another Day, told reporters after his landing: "I feel absolutely wonderful, I am overwhelmed.
"I am in a strange zone at the moment. It is an amazing feeling. I feel incredible, just completely elated.
"I have been training and planning for this record attempt for many years now and I am so proud to have achieved a world first."
Connery has previously completed similar stunts from the top of London's Tower Bridge, the London Eye and the Eiffel Tower.
See the video of Connery's fall below: