Suarez Bites Back: Giorgio Chiellini of Italy Latest Nibble for Uruguay Star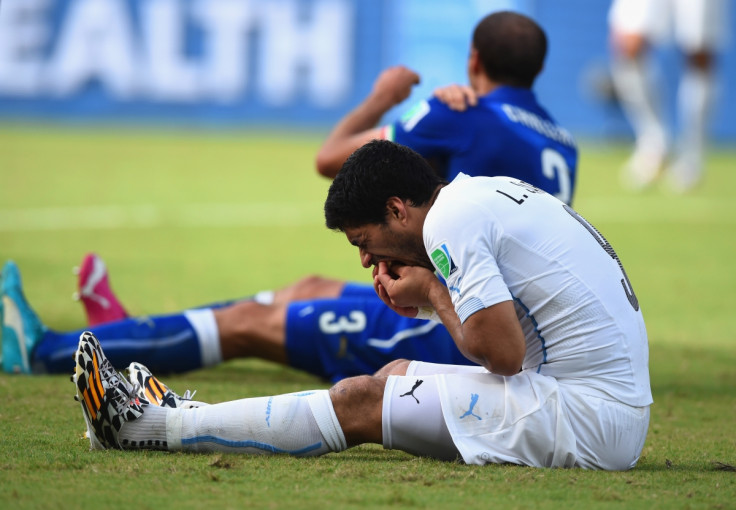 Just as the world was learning to love Luis Suarez, the wayward genius once again bit off more than he could chew - and the Uruguay striker's antics were again hard to swallow.
Suarez, the Liverpool striker whose extraordinary skills and 31 Premier League goals in just 33 matches made him both PFA Player of the Year and Football Writers' Player of the Year, carried that prolific form into the World Cup Finals in Brazil.
Having missed Uruguay's opening defeat against Costa Rica he scored twice against England, his second hurting the most because with just six minutes remaining it condemned England to an early flight home. Despite that heartbreak, the feisty forward was praised to the rafters by the British media - who just months before had been calling for him to be thrown out of the game.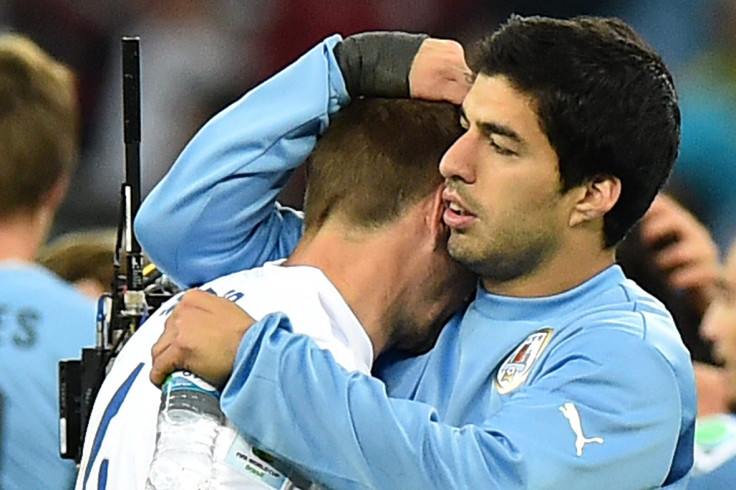 Suarez shows his soft side consoling England midfielder and captain Steven Gerrard after Uruguay beat England 2-1 (unless he's looking for the tenderest bit)
AFP
Suarez has always been a divisive player - fans either love him (Liverpool) or hate him (everyone else). Quite apart from two biting incidents - against PSV Eindhoven midfielder Otman Bakkal when playing for Dutch giants Ajax and Chelsea's Branislav Ivanović at Liverpool, being banned for a total of 17 games for the two incidents - he also racially abused Manchester United's Patrice Evra. For that he received an eight-match ban.
Now, Suarez has done it again: apparently sinking his not inconsiderable chompers into the Italy defender Giorgio Chiellini during a sour 1-0 victory for the Uruguayans in Natal which put Uruguay through behind winners Costa Rica and knocked Italy out of the tournament.
Although Suarez wasn't penalised for the incident at the time, despite the Italians surrounding the referee, FIFA are now bound to intently study video and photographic evidence, which includes pictures of Suarez holding his teeth. If found guilty of biting yet another opponent, there is a strong possibility the striker could miss the rest of the tournament - even the final, if his team get that far. It would be a deeply disappointing way for one of football's most gifted - yet irritating - players to depart the world stage.
© Copyright IBTimes 2023. All rights reserved.