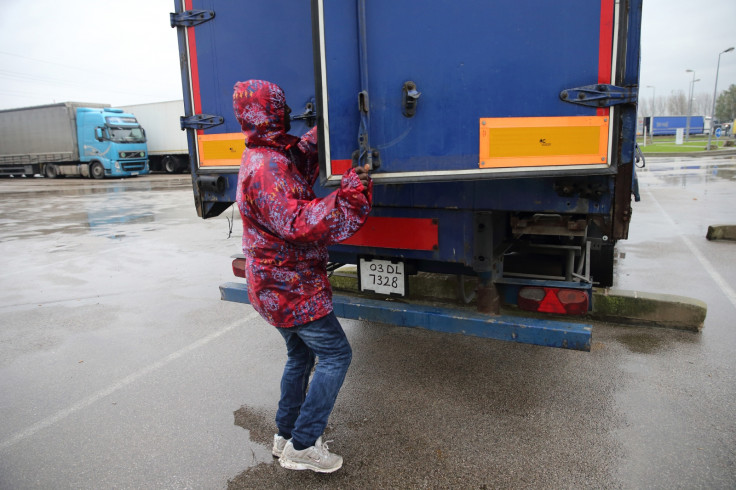 A migrant clinging to the underside of a lorry travelling from France has been killed while trying to get out while the vehicle stopped on the M25.
The dead man was one of two Sudanese men thought to have climbed under the lorry at Calais on Friday, according to police.
After becoming "extremely cold" the two men decided to leave the lorry, which had arrived in England. But one of the men is believed to have fallen beneath the rear wheels when it started to move off again.
A Metropolitan Police spokesman said: "While the HGV was stationary in lane one of the motorway, one of the men worked himself free and clambered down the nearby grass verge.
"The second man attempted to do the same, but the lorry began to move off and he is believed to have fallen beneath the rear wheels of the lorry, suffering fatal injuries."
The other man was unharmed and detained by police on suspicion of immigration offences.
Police are looking for the driver who failed to stop after the accident.
It's believed the men climbed underneath a "foreign HGV" at the French port of Calais, according to BBC News.
The vehicle travelled through the Channel Tunnel to England, then headed towards London and joined the M25.
A member of the public dragged the man to the edge of the carriageway, but then left the scene of the accident. London's Air Ambulance tried to resuscitate the man, but he was pronounced dead at the scene.
Growing numbers of migrants have been trying to come into the UK through Calais in recent months.
Around 2,500 illegal immigrants were at the French port during November, said local officials. Many are coming from Sudan, Eritrea, Ethiopia and Syria.
Numbers have increased by 50% in the past year as people flee from humanitarian crises in northern and eastern Africa and the Middle East.
Sudanese migrants to the UK have included asylum seekers fleeing Sudan's second civil war.