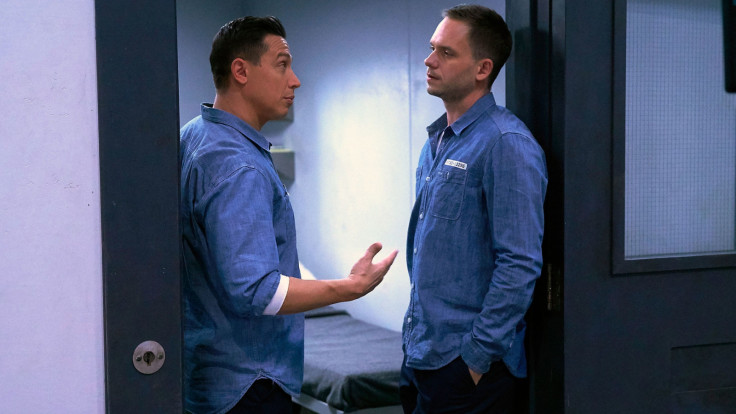 Suits season 6 is just a few episodes away from its summer finale, as prison drama around Harvey Specter, Sean Cahill, Mike Ross and Kevin Miller is on an all-time high, with the faux lawyer learning the truth about Kevin, which could potentially help him get out of prison sooner.
Episode 7 is titled, Shake The Trees, which will air on 24 August, at 9pm EST on USA Network. The official synopsis for the chapter reads as follows:
In episode 6, Mike finally discovers why Kevin refused to testify against his father-in-law, William Sutter. When Kevin found out his father-in-law doesn't use the program he developed but made his money from insider trading and that his wife knew about it all along, he went out drinking and was arrested for drunk driving.
Later, when given a choice, Kevin picks serving prison for three years rather than sending the mother of his children to jail for longer. After hearing his cellmate's story, Mike advises him to have a rethink on the deal, under the condition that his wife would receive immunity, but Kevin refuses to take the risk. Kevin even forces Mike to give his word that he won't say anything to anyone, but given that the lawyer is an informant, it will be interesting to see how this arc will pan out.
Meanwhile, we also learnt that Sean Cahill wanted Kevin to testify against Sutter, because of his mother. Cahill told Harvey that his mother was never able to retire from teaching and travel to Spain with her retirement savings because the state teachers' fund invested its money in Sutter. He wanted Harvey to give him the trading program, so that he could bring Sutter down.
So, episode 7 will feature Harvey trying to buy more time for Mike, who has to bring his A-game to convince Kevin to testify against Sutter. The promo for the episode shows Harvey and Mike having an argument about Kevin.

Mike says, "Please! I betrayed him enough" to which Harvey says, "I don't think you understand, there is no third deal".