Thousands of people have congregated at Stonehenge to mark the summer solstice.
Police said around 23,000 people were at the Neolithic site to watch the sun rise at 4.52am, reporting the celebrations were "positive and peaceful".
Figures were down from last year, when attendance figures were estimated at 36,000 people.
Arthur Uther Pendragon, who claims to be a reincarnation of King Arthur, was there to knight new followers to his druidic order – the Loyal Arthurian Warband – which he described as the political wing of the religion.
"We're the ones who get into trees to stop roadbuilding and take on people like English Heritage over access to the stones. We're sworn to fight for truth, for honour and for justice," he told The Guardian.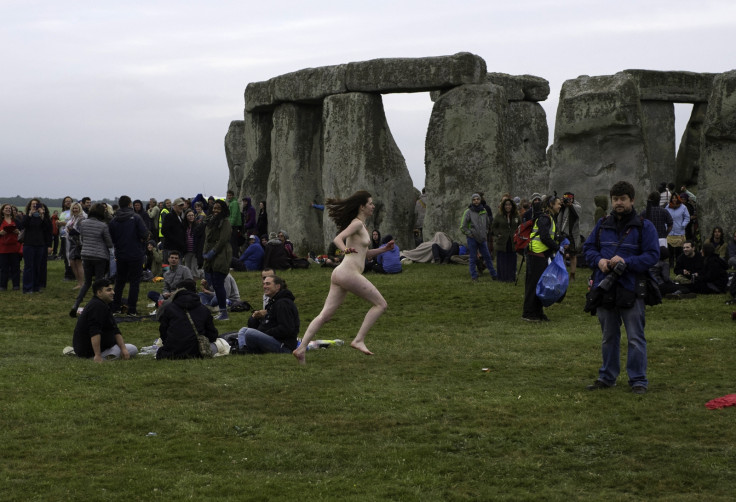 Police said arrests were lower than in previous years, with nine people being held for drugs offences. Several people were cautioned for possession of Class A drugs, while no arrests were made at the nearby Avebury stone circle.
Superintendent Gavin Williams, lead officer on the policing operation, told Western Daily Press: "Solstice 2015 has been a great success with approximately 23,000 people celebrating at Stonehenge in a friendly atmosphere as they waited for sunrise.
"This year the crowds were able to see the sun as it appeared over the horizon, before it disappeared under low cloud.
"There have been a lower number of arrests compared with previous years at Stonehenge, nine people were taken into custody mainly in relation to drugs offences.
"We issued 31 cannabis street warnings, issued five cautions for possession of a class A drug and made 43 drugs seizures.
"The majority of people respected the conditions of entry and the amnesty bins provided were used. As with previous years, the passive drugs dogs proved very effective.
"The success of the event depends largely on the good nature of those attending and we are pleased that people could enjoy Solstice in the spirit of the event."
Professor Ronald Hutton, an expert on paganism at Bristol University, said he believed there were at least 100,000 practising pagans in Britain.