Acid thrown in face of aspiring Manchester model during 21st birthday celebration in east London
Resham Khan and cousin Jameel Muhktar were left in excruciating pain after being attacked while in their car.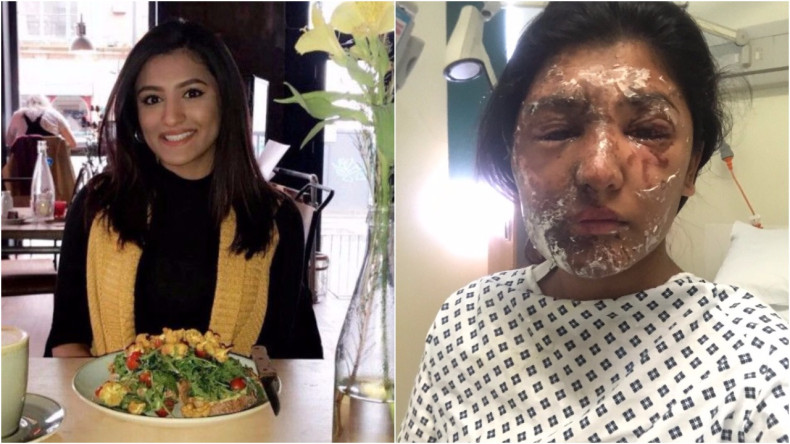 An aspiring model and her cousin have been left with "life-changing" burns after acid was thrown through the windows of their car.
Resham Khan was celebrating her 21st birthday with Jameel Muhktar while travelling through Beckton, east London, when the incident happened.
The attack on Wednesday (21 June) left the pair with severe burns to their faces and bodies, with 37-year-old Muhktar placed in an induced coma due to the extent of his injuries.
Police say they have made no arrests and enquiries are ongoing.
Khan, a business management student in Manchester, had recently returned from an exchange year in Cyprus.
Writing about the attack on social media, she said she had come to London to celebrate her birthday and planned to visit a spa and have a meal.
She went for a drive on the morning of the attack with her cousin, "blasting music and chilling like cousins do, hyping it as I WAS 21".
The incident happened as they were coming onto the A13 road in Beckton, she said.
"Long story short, whilst at the lights, a man threw acid through my window and then went round to his and threw more," Khan wrote in a series of tweets about the incident, now shared more than 8,500 times.
"The pain was excruciating I was struggling to close the window. My cousin struggled to get us away. I saw my clothes burn away infront of me.
"He put his foot down as we were coming onto a dual carriage way but the pain took over and we crashed."
As the corrosive substance seeped through their clothes and burnt their skins, Khan went on to tell of how "we stripped off in the middle of the road, running around screaming and begging for water".
She says the pair were eventually taken to hospital by a passing driver.
Both continue to be treated in hospital. Khan suffered damage to her left eye and required a skin graft, suffering burns on her arms, legs, face and shoulder.
Muhktar, who has since been brought out of his coma, also has burns across his body, including his arms, legs, back, neck and the right side of his face, and damage to his right eye.
Khan, who had plans to model for Asian bridal, make up and hair artists, wrote: "I'm devastated. I keep wondering if my life will ever be the same. Acid attacks in the UK are unheard of for me.
"My 21st birthday. My glow up complete. Just got back to the country. And now I'll probably never look the same."
A GoFundMe page has been set up to raise money for the pair's recovery.
A spokesman for the Met Police said: "Police were called at approximately 09:15hrs on 21 June to reports that two occupants of a car had been sprayed with a corrosive substance in Tollgate Road E16.
"The occupants, a man aged 37 and a woman aged 21, were assisted by members of the public and had been taken to an east London hospital prior to the arrival of police and the London Ambulance Service.
"Both victims have suffered burn injuries described as life-changing. It is believed the victims were inside a parked car when a man approached and threw a corrosive substance through the open window.
"The car made off pursued by the suspect on foot before it collided with a fence. The suspect made off.
"Officers from Newham and the Met's Territorial Support Group executed a warrant at an address in E16 on the afternoon of 21 June in connection with the incident. There were no arrests; enquiries continue."