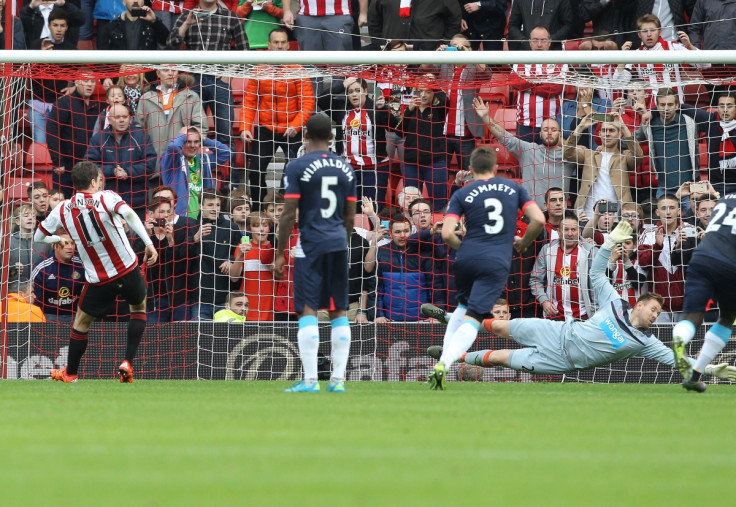 Police are searching for three men who attacked a horse in Newcastle city centre in the wake of the Tyne-Wear derby.
However, rather than being a repeat of the shambolic scenes that took place in 2013 after Newcastle lost 3-0 to their fierce rivals Sunderland, when Magpie Barry Rogerson punched a police equine, this time the victim is merely a fibreglass gee-gee outside the Herb Garden restaurant, close to Newcastle's High Level Bridge.
CCTV footage, obtained by the Chronicle, shows three men pulling Herby the Horse onto the pavement, resulting in the restaurant's mascot becoming cracked and causing ndreds of pounds of repairs. The horse is said to have been targeted by vandals before, especially on Derby days.
Lucy Clinch, 31, head chef of the restaurant, told the Chronicle. "Herby is there to generate interest and attract customers because we are in a listed building and can't have too much signage up. I have no idea what comes into their minds, it breaks our hearts every time it happens. Herby is our mascot and it's not right that he gets attacked.
"He is always poking his head through the front door and people stop to get pictures with him. It's just a shame."
A Northumbria Police spokesperson said: "At 3.15pm on 25 October we received a report of criminal damage at the Herb Garden on Westgate Road, Newcastle.
"Inquiries are ongoing and anyone with any information or who recognises the men is asked to contact police on 101, extension 69191 quoting reference number 690 of 25/10/15."
Despite the criminal damage to Herby, police praised both Newcastle and Sunderland fans for their behaviour on 25 October after only 10 arrests were made.
Match commander Chief Supt Steve Neill said: "The fans have again shown today why the Wear-Tyne derby is up there with the best in the country. It has been a day filled with passion but it has lost the poison that has been associated with this game in the past – that is a testament to football fans across the North East.
"Ten arrests out of crowd of nearly 50,000 is extremely low and I'm pleased that the fans who attended today were clearly there to support their team and not interested in causing trouble."