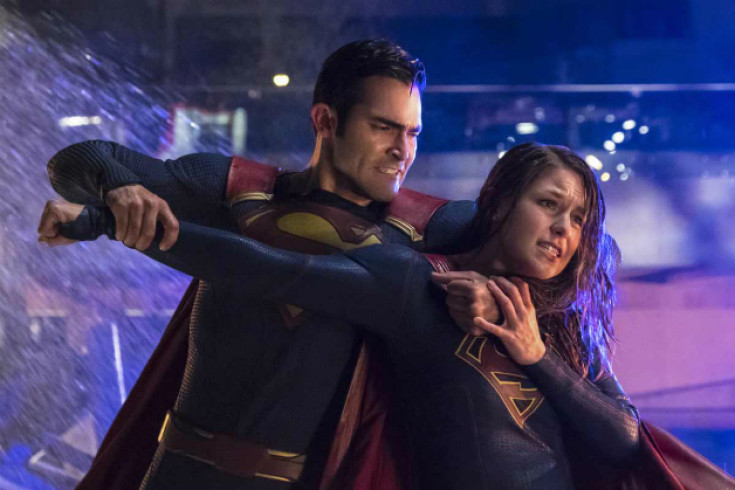 It's Man of Steel vs Woman Of Steel in Supergirl season 2 finale. Kara Danvers aka Supergirl will have to face-off her more popular cousin Superman in the finale episode, which is set to air next Monday (22 May) at 8pm EST on The CW.
Episode 22 is titled, Nevertheless, She Persisted, and the official synopsis reads as follows:
Supergirl (Melissa Benoist) challenges Rhea (guest star Teri Hatcher) to battle to save National City. Meanwhile, Superman (guest star Tyler Hoechlin) returns and Cat Grant (guest star Calista Flockhart) offers Supergirl some sage advice.
Tyler Hoechlin returns as Clark Kent, but with a twist in the final scene of episode 21. Unlike the hero he is, Superman is now mind controlled by Rhea, who gives him orders to fight his own cousin, thereby setting a stage for the ultimate showdown between the two Kryptonians.
A promo released for the episode opens with Supergirl saying, "May the fate of my people rest on the fate of my life," as Mon-El points out that she just invoked a trail by combat.
Later we see Cat Grant asking Kara, "Do you think Supergirl is ready for this? as a resilient Kara replies in affirmative. "Then I put all my chips on the Girl Of Steel!"
The promo then asks fans to brace themselves for the"fight of the century" as Supergirl and Superman engage in a fierce battle. Also, DC Villian General Zod makes his first appearance as he tells everyone, " The people of this planet will kneel before me." The promo ends with Kara facing off Rhea, as they both say, "For the Earth!"
Previously, executive producer Andrew Kreisberg told Entertainment Weekly, "There's multiple showdowns coming up. These are some of our biggest episodes we've ever done."
"The finale is probably the biggest episode we've ever done," Kreisberg continued. "We saved a bunch of money to pay for more visual effects and actually added another day to the schedule so we could make it as big as possible, and yet it also has multiple get-your-Kleenex scenes. We're really excited about it. We're all blown away."