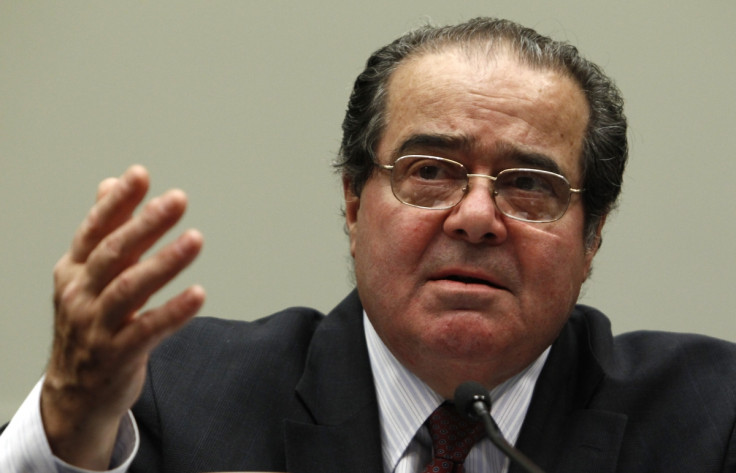 Supreme Court Justice Antonin Scalia official died of a a heart attack, a Texas judge confirmed on 14 February. The conservative Supreme Court justice unexpectedly died on 13 February at Cibolo Creek Ranch in Shafter, Texas.
Presidio County Judge Cinderela Guevera told WFAA that she was shopping in the neighbouring town of Alpine when she received a call from county Sheriff Danny Dominguez about Scalia's death. According to USA Today, Guevera pronounced Scalia dead over the phone at 1.52pm CST (7.42pm GMT) on 13 February.
Instead of immediately ordering an autopsy, Guevera told reporters she asked the sheriff and a US Marshal present if there were any signs of foul play, which there were not. She then spoke to Scalia's personal doctor, who informed her that the Supreme Court justice had had a shoulder problem and suffered several chronic ailments. "I felt comfortable what I knew was going on with him physically," Guevera said.
However, a fellow justice of the peace, who was unable to get to Scalia's body in time, told The Washington Post that she would have ordered an autopsy. Scalia's remains were later transferred to El Paso, Texas at the request of his family. There, Sunset Funeral Home will embalm his body and prepare it to be flown to the East Coast.
Funeral home manager Chris Lujan said that Scalia's family did not request an autopsy and that his remains are set to be flown back to Washington DC on 15 February. "An autopsy was declined," Lujan said. "The justice of the peace said there was no indication of foul play and that he died in his sleep from natural causes."
Justice Scalia had traveled to the famous Cibolo Creek Ranch on 12 February with a large party to hunt blue quail. Law enforcement officials said Scalia left a private party that night to go to bed early and later failed to show up for breakfast the following morning. Officials said that people originally believed he might be sleeping in, but later grew concerned by his absence.
Ranch owner John Poindexter told reporters that he and another person went to check up on the justice, did not get a response and went inside his room. "Everything was in perfect order. He was in his pyjamas, peacefully, in bed," he said.