Spanish midfielder Suso is desperate to help Liverpool make a return to Wembley after watching from the stands last season as the club won the League Cup in a dramatic final against Cardiff.
Liverpool face Welsh opposition once again in the Captial One Cup as they prepare for the visit of Swansea and attempt to qualify for the quarter-finals of the competition they won last season.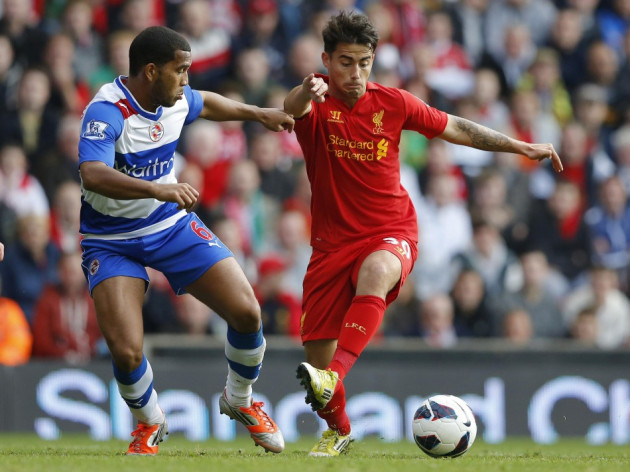 While Suso was attempting to force his way into first team reckoning when Liverpool lifted the trophy in February this year, he has now established himself as an important member of Brendan Rodgers' side.
Having seen his teammates celebrating last season he hopes to be able to help Liverpool replicate that success as he believes the squad is good enough to compete on all fronts.
"Every competition is important and we want to win some trophies," Suso told Liverpool's official website. "We will always try - we are Liverpool. We have some of the best players in the world and we need to try to win everything we can.
"When we were there last season, it was a beautiful day. It was really, really nice. If we can repeat that again, it will be fantastic.
"But the final doesn't matter for now. If we want to get to Wembley, there is a game against Swansea tonight - and then it's Newcastle on Sunday in the league.
"We face both games here at Anfield and we need to show other teams that at Anfield, it is going to be the hardest day for them."
Liverpool have been on their best run of the season after going four games unbeaten in all competitions and have not conceded a goal at Anfield in their last three games.
The 18-year-old is hoping that Liverpool can continue this momentum in a game that is of massive importance for Rodgers who left Swansea in the summer after two impressive seasons with the Welsh club.
"We always have to try to win games," continued Suso. "We have to try to do our best in every game.
"I know it's not a Premier League game, but we need to keep winning- it doesn't matter what the competition is. We need to try and win every game for ourselves and for the fans, because they deserve it.
"We have been a little bit unlucky with the goals we have conceded, but we've played against really good teams with good players.
"We have a good defence, but we - like every team in the world - are still improving."