Swansea City manager Michael Laudrup said he is delighted to be linked with a move to Real Madrid, to replace Jose Mourinho at the end of the season. The 48-year-old led his side to League Cup success in his first term with the Welsh club, as the Swans defeated Bradford City 5-0 in the final at Wembley at the weekend.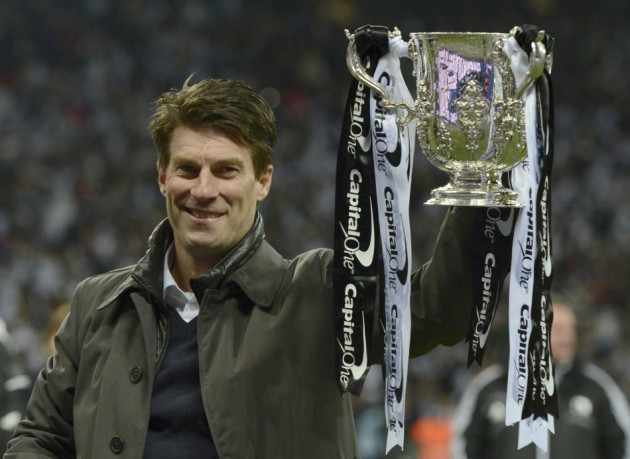 Spanish newspaper AS had earlier conducted a survey among 40,000 voters on who should replace Mourinho at Real. Chelsea's interim manager Rafael Benitez and Paris Saint-Germain boss Carlo Ancelotti were the among the contenders but Laudrup, the former Barcelona and Real midfielder, won the poll, as 78 per cent of the voters wanted the Dane to take charge at the Bernabeu.
"I am proud of that because there were 40,000 voters and its 78 per cent in front of two huge names like Rafael Benitez and Carlo Ancelotti, who have won league titles in Italy and Spain and the Champions League. So I'm very grateful," Laudrup explained.
However, the Swansea manager has now revealed he wants to continue with his current employers till the end of the next season. Laudrup still has one more year left on his deal, though he has not spoken to the Swans regarding an extension.
"I can't really say anything more. There will always be rumours but this time it's positive rumours about one club or another club. I can only sustain what I've said before - my intention is to stay here, I have one more year on my contract. And that's it. I've said I'd like to stay here but again, even if you have a 10-year deal, there will always be rumours. My intention is to stay here next year, that's the only thing I can say really," the manager added.
Meanwhile, Swansea's talisman Michu has urged Laudrup to continue with the Welsh club, after the League Cup success in his first season.
"I have gone up to Michael and said 'stay with us now we are in Europe'. The gaffer here has done great in his first season. I know other people will want him. He is really good, doing really well and maybe he can go with another club, but I hope he will stay here," Michu said.