Swastikas were painted along the same road as a cemetery in Coventry where hundreds of victims of the Second World War Blitz are buried. The offensive Nazi symbols appeared hours before a national demonstration by the English Defence League (EDL) took place in the city's centre, although the group denied any involvement.
The London Road Cemetery contains the bodies of more than 800 people who died during air raids on the city, according to the Coventry Telegraph newspaper. West Midlands police said they were investigating the swastikas which were daubed onto walls and road signs on 19-20 May.
"Officers are liaising with the local authority to get these removed," they said in a statement provided to IBTimes UK.
A national organiser of the EDL denied the group were involved with painting the symbols and instead placed the blame on left-wing groups trying to smear the group.
"I would guarantee 100% it's not members of the EDL," Ian Crossland told the Coventry Telegraph. "What we have seen up and down the country is members of the left-wing groups putting these images out to try and create hatred of our group."
Four members of the group were arrested for public order offences at a rally held by the group in Coventry's city centre on 21 May, West Midlands Police said, adding that it was attended by around 220 members.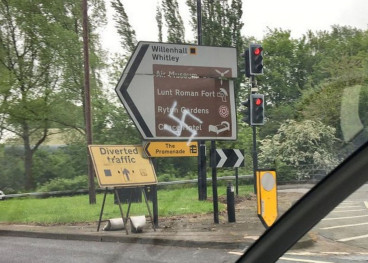 "A robust policing operation" was required to keep the EDL supporters apart from counter-demonstrations attended by around 150 people which took place at the same time, they said.
"There was a large police presence on the ground throughout the day so that we were prepared if there were any issues reported to us but we were confident the protests would take place peacefully," they added.
Weyman Bennett, a spokesman for Unite Against Fascism, whose members attended the counter demonstration denied left-wing groups had drawn the swastikas to discredit the EDL.
"The fact that people turned out to demonstrate against the EDL reflects that Coventry is a united city," he told IBTimes UK.