Swedish police have arrested a man in north Stockholm who has confessed to carrying out a deadly truck attack in the centre of the city, reports have claimed.
The Swedish daily newspaper Aftonbladet, citing unnamed sources, reported that the suspect had some light injuries and told officers that he was responsible for the attack.
Police said that at least four people were killed in the attack earlier today (Friday 7 April) outside the Ahlens mall in Drottninggatan,
As many as 15 people were injured when a lorry was driven into a crowd in the centre of Sweden's capital.
Reports suggest that nine of the injured taken to hospital were severely injured.
Footage from the scene shows terrified shoppers fleeing into shops as the truck speeds through a pedestrianised area.
Swedish media are reporting that the arrested man was apprehended wearing a balaclava. He was taken in by police in Marsta, around 25 miles north of the Swedish capital.
"One person has been arrested who may be connected with the incident," police said.
A fire broke out in the seconds after the lorry collision. Fire crews rushed to the scene.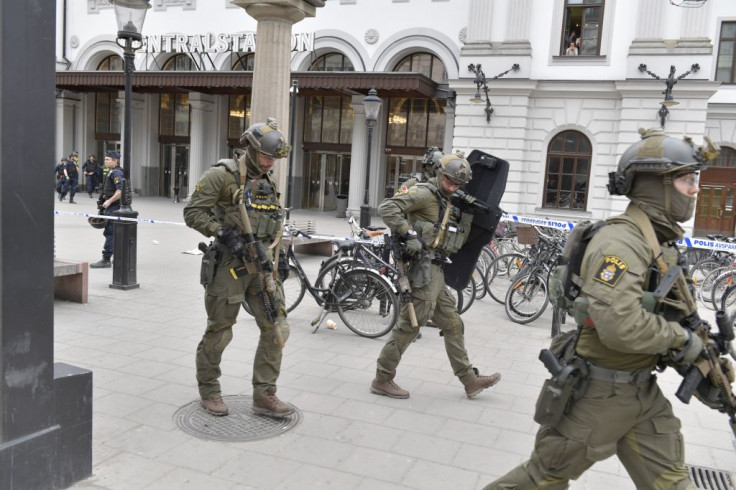 The city immediately went into lockdown with the metro system and the Swedish parliament closed and shoppers urged to go home.
It is thought that the alleged assailant may have used the city's metro system to escape the scene. Police released an image of a man wearing a green jacket, grey hoodie and white shoes who they were hunting in connection with the attack although they did not describe him as a suspect.
Detectives refused to confirm whether the man arrested was the same one shown in the image.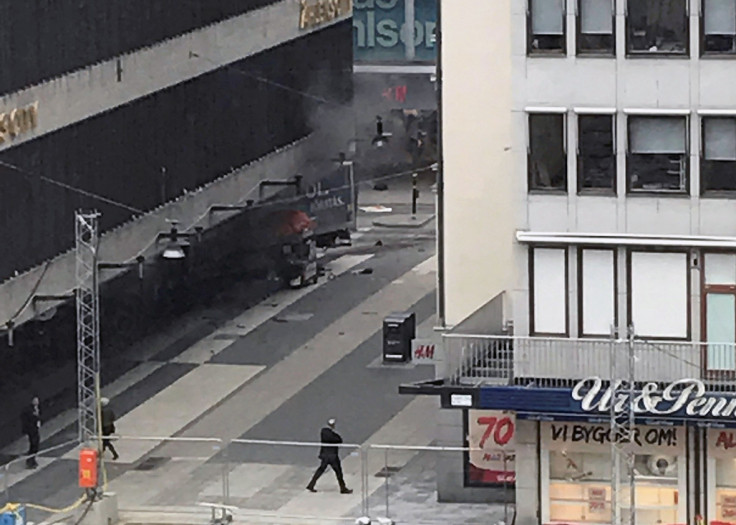 Investigators are also interviewing two people in relation to the attack although it is thought they have not been identified as suspects.
"I can confirm that we have taken in two people for questioning but that does not necessarily mean that they are suspects," police spokesman Lars Bystrom said.
"We want to talk to everybody who knows anything about this and sometimes it's better to talk at the police station than the place of the event."
In the wake of the incident Swedish Prime Minister Stefan Lofven said the country had been attacked in an act of terrorism.
The truck crashed into the crowd just yards from where a suicide bombing happened in 2010 which killed the bomber and injured two.