Just days before Man Haron Monis took staff and customers hostage in a terrifying siege on a Sydney café, an anonymous caller contacted the Australian National Security hotline to warn of Monis's potential for danger.
Australia's Security Intelligence Organisation – the country's version of MI5 – has revealed they received a call around two days before the deadly incident, advising them to "take a look at this man's website".
The caller did not suggest Monis was planning a terrorist attack, had a weapon or that he planned to take hostages.
The call will feature as a key component of the review ordered by Prime Minister Tony Abbott to establish more clarity about the terrifying incident, reports the Daily Telegraph.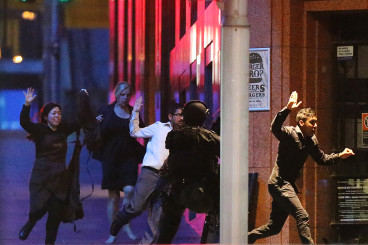 Monis' website features rambling posts about terrorism-fuelled protests in Martin Place – the site of the Lindt Café Siege which rocked the nation last week.
He also ran numerous social media accounts, including a Twitter and Facebook account – the latter of which has 14,000 likes – which he used to preach extremist jihadist views.
The news follows revelations that Sydney's Channel 7 television offices may have been Monis' original target.
In 2009, Channel Seven's Today Tonight show exposed Monis for sending abusive letters to the families of Australian soldiers killed in Afghanistan.
The siege
In the early hours of Monday morning, the gunman walked around Martin Place before entering the Lindt Café where he took 17 customers and staff hostage. Two people died along with Monis when police stormed the café after a 16 hour stand-off.
On Wednesday, Mr Abbott announced a review into the background and security checks on Monis.
He said questions must be asked about why Monis – an Iranian who first came to Australia as a refugee in 1996 – was not on a security watch list, despite a history of violence and mental instability, and why he had a gun licence.
But the Australian Federal Police said it had since "confirmed that there is no record of Mr Monis ever having held a firearms licence", and that the inaccurate information was based on one manual entry in a police reference database.