Sydney siege: Dramatic photos and video show hostages' escape and gunman at Martin Place Lindt Cafe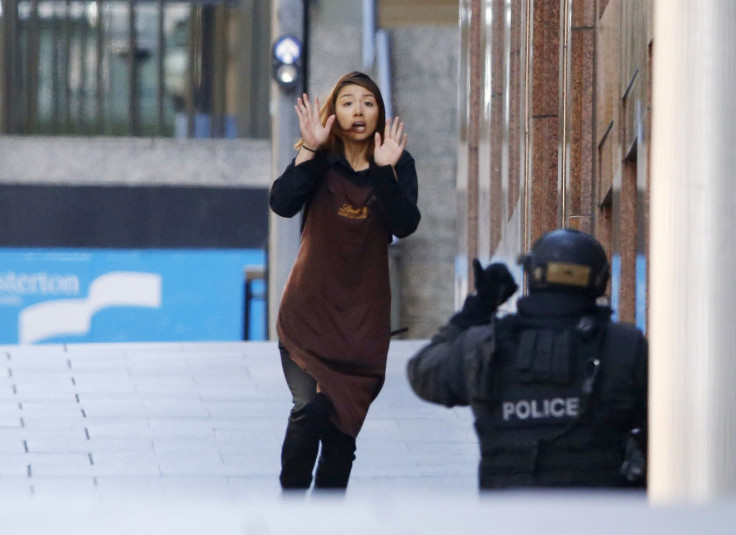 The dramatic moment two women fled a cafe in central Sydney where a gunman took an unknown number of hostages has been captured on camera.
Two employees of the Lindt Chocolat Cafe are seen running out of the store in Martin Place and being brought to safety by police forces, in footage captured by media camped outside the building.
Earlier three other men had managed to escape from the premises via a fire exit.
One of the freed hostages has been taken to a local hospital, where he was described as being in a satisfactory condition, while the other four were reportedly not in need of medical attention.
"He's in a satisfactory condition, so he's sitting up and that's all we can give out. We can't talk about the reason for his presentation," St Vincent's hospital spokesman David Faktor said.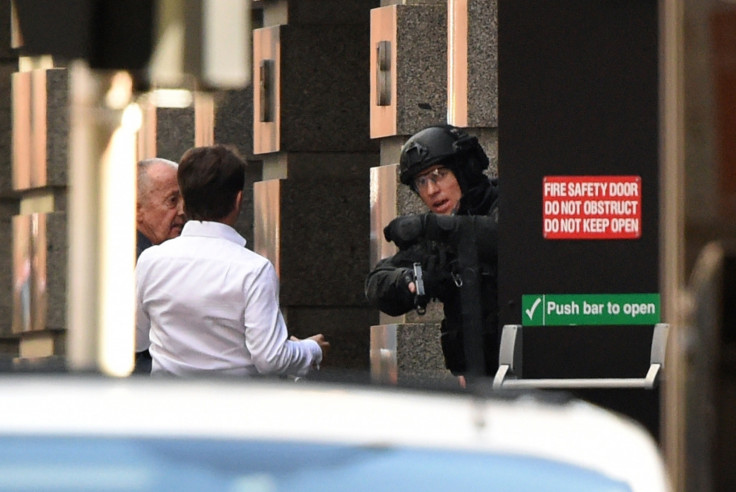 Police said they have no information suggesting that anybody else has been injured in the hostage crisis that has lasted for more than six hours.
"We do not have any information that suggests that anybody is harmed at this stage," New South Wales Police Deputy Commissioner Catherine Burn said.
Hundreds of police forces have surrounded the cafe and streets in the area were closed and offices evacuated.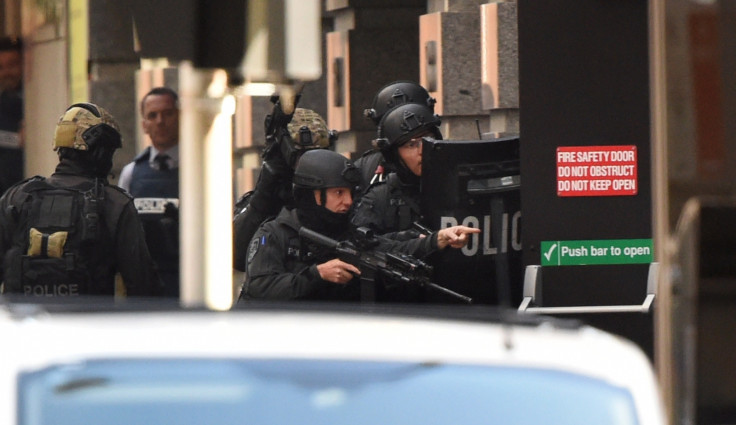 Authorities are negotiating with the man, who is reportedly referring to himself as "The Brother". He claims to have planted two bombs in the store and two in the Australian capital's central banking district.
Photos taken at the scene appear to show the alleged gunman as a bearded middle-aged man wearing a white shirt and a bandana.
Regarding the hostage-taker's demands, Australian police requested that they not be made public by the media in order not to jeopardise the negotiations.
The man apparently forced two hostages to hold up an Islamist flag similar to those used by jihadist groups, as police said they believe the attack might be an act of terrorism.
Photos from the scene showed two female hostages holding a black flag containing an Islamic declaration of faith up against a window of the Lindt Chocolat Cafe in central Sydney.
The banner is known as Shahada and contains the words: "There is no God but the God, Muhammad is the messenger of God", a common expression in the Muslim world that has however been seized by some extremist groups, including the al-Qaeda-linked Jabhat al-Nusra in Syria.
"This is a very disturbing incident," Prime Minister Tony Abbott said. "It is profoundly shocking that innocent people should be held hostage by an armed person claiming political motivation."
© Copyright IBTimes 2023. All rights reserved.