Sydney Siege: PM Tony Abbott: 'I can think of nothing more terrifying than being caught up in this situation'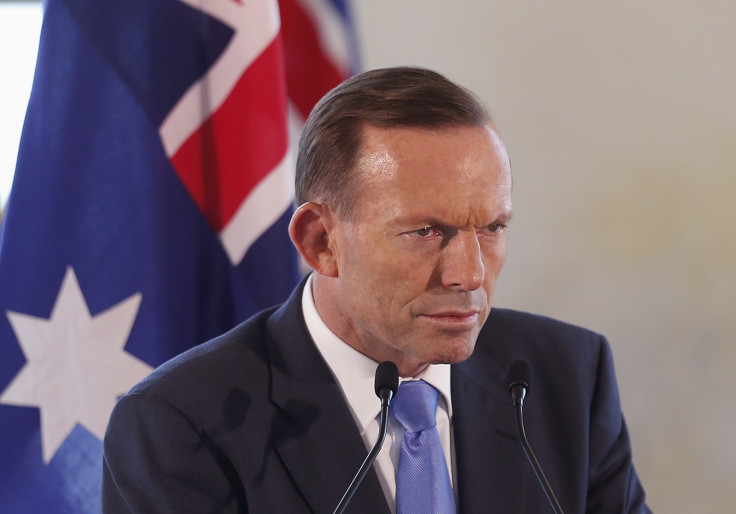 Australian Prime Minister, Tony Abbott has addressed the media as the Sydney siege of a Lindt coffee shop continues.
Up to 40 people are believed to be held hostage at the café in Martin Place, one of Sydney's main business areas. It has been reported that one or two gunmen entered the Lindt cafe at 9.40 am and are holding the victims captive.
A major police operation is underway and the area surrounding the café has been cordoned off.
Describing it as a "disturbing incident" the Prime Minister said there are "some indications" it could be politically motivated.
"We don't yet know the motivation of the perpetrator. We don't know whether this is politically motivated though obviously there are some indications that it could be. We have to appreciate that even in a society such as ours, there are people who would wish to do us harm, that's why we have police and security organisations of the utmost professionalism that are ready and able to respond to a whole range of situations and contingencies, including this situation that we are now seeing in Sydney.
"The whole point of politically motivated violence is to scare people out of being themselves. Australia is a peaceful, open, and generous society. Nothing should ever change that and that's why I would urge all Australians today to go about their business as usual.
"I can understand the concerns and anxieties of the Australian people at a time like this, but our thoughts and prayers must above all go out to the individuals who are caught up in this. I can think of almost nothing more distressing, more terrifying than to be caught up in such a situation and our hearts go out to these people."
Photo Gallery: The latest pictures from Lindt cafe #SydneySiege http://t.co/rZG7Zb7jyt pic.twitter.com/3IAGGW81yp

— ABC News Sydney (@abcnewsSydney) December 15, 2014
Opposition leader, Bill Shorten, has also released a statement on the siege. He said: "Our thoughts and prayers today are with the innocent people involved in this morning's incident in Martin Place, Sydney. Our thoughts are also with their families who are seeing this incredibly distressing situation unfold, along with the rest of Australia.
"I have full confidence in the skill and professionalism of our police and security agencies. I have spoken to Prime Minister Tony Abbott this morning and offered him the Opposition's full support at this time. Australians can be assured that we are one when it comes to keeping Australians safe."
As the siege continues reports from eye witnesses and family of the hostages are emerging, as police attempt to make contact with the hostages.
Dozens of heavily armed police have surrounded the cafe in Sydney's Martin Place. #sydneysiege http://t.co/7NdqPYhwcY pic.twitter.com/wMS99GGwE1 — ABC News (@abcnews) December 15, 2014
Nathan Grivas who works in the Lindt Cafe and arrived for work just after the siege started said he saw one of his colleagues pressed up against the window and said he thought one of the hostages looked at him. "It was already locked [when he arrived]. I didn't get a good look at them, as soon as I saw the gun all I wanted to do was get out," he said. "Lucky I didn't start at 9 today. Hopefully they'll be okay."
The fiancée of one of the hostages has spoken of his partner, who is being held hostage and has worked at the cafe for six months.
"She's the sweetest person ever who thinks about everyone. She took some of my old shoes and made me wash them and she gave them to a homeless guy. She just cares about everyone. She's organised restaurant bookings and stuff for her workmates."
The Sydney Opera House has been evacuated following concerns about a suspicious package and the Harbour Bridge, which is ten minutes away from the Lindt cafe, has been closed.
© Copyright IBTimes 2023. All rights reserved.