The Royal Air Force (RAF) has successfully bombed an oil field controlled by Islamic State (Isis) extremists in Omar, eastern Syria, during the second wave of air strikes in Syria by British military forces. It was the first time Typhoon jets flew missions over Syria.
Simultaneously, the RAF provided air support to Kurdish security forces in north-west Iraq, who are continuing to fight IS (Daesh) extremists in the country. A truck bomb identified south of Sinjar, which was recently liberated from IS by Peshmerga forces, was destroyed by a direct hit by a Hellfire missile fired from a Reaper drone.
The air strikes took place on Friday, 4 December, using two Tornado GR4 and two Typhoon FGR4 combat aircraft, based at RAF Akrotiri in Cyprus. The jets used GPS- and laser-guided Paveway IV bombs to hit the wellheads, in an attempt to cut IS's oil supply and its revenue from oil sales.
The first attacks over Syria took place on 3 December, just hours after MPs voted to extend air strikes to Syria. The RAF has been conducting air strikes on IS targets in Iraq since 2014.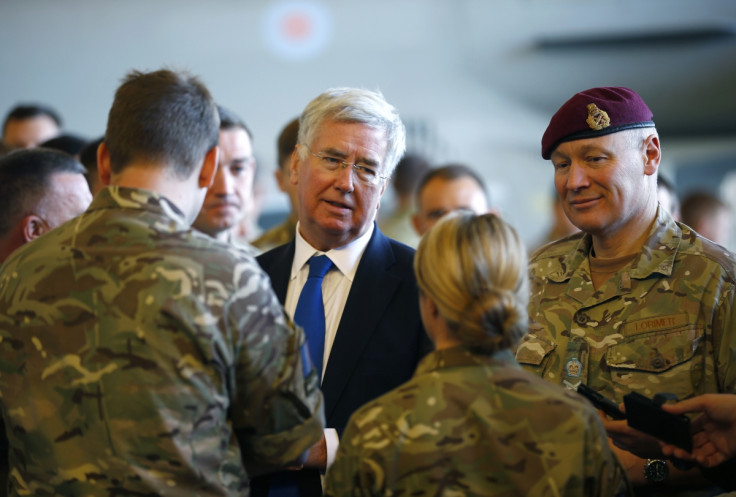 While visiting RAF Akrotiri on 5 December, Defence Secretary Michael Fallon said that the strikes were a "pretty impressive achievement". He told Sky News: "Last night we had the Tornados in action, the Typhoons in action and our unmanned Reapers in action – all of them striking [IS] where it hurts.
"Air strikes can make a difference in starting to squeeze [IS] back into its heartland, reduce its ability to resupply and reinforce over in Iraq and to cut off its sources of revenue." He added that oil revenue funds IS's terrorist activities, such as the Paris attacks.
In total eight air strikes were carried out, and reports suggest that they were all successful. The Ministry of Defence said that other missions to collect intelligence had also taken place, with assistance from an RAF Voyager air refuelling tanker during their missions.
This week UK MPs voted 397 to 223 to approve David Cameron's plans to launch air strikes on the terror group's forces in the wake of the Paris terror attacks. The prime minister argued that it was wrong for Britain to "outsource" its security to other countries and "it was the right thing to do".