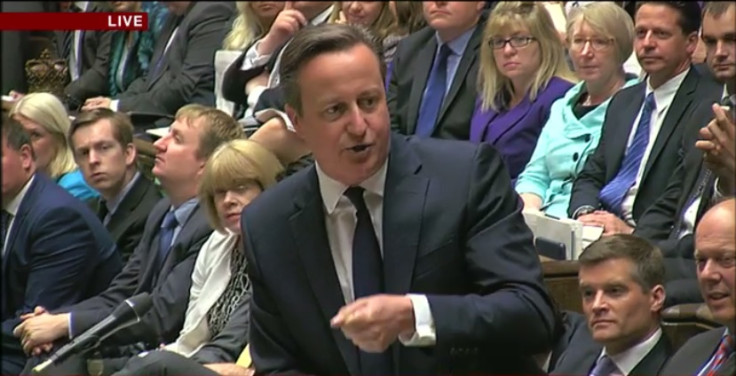 The news that David Cameron was aware for months that British pilots were carrying out air strikes against Islamic State in Syria leaves the prime minister with some difficult questions to answer.
When the Commons narrowly voted against joining US-led air strikes in Syria in 2013 after President Bashar al-Assad's forces used chemical weapons, Cameron pledged that MPs would be able to vote on any future British military action in Syria.
Now it has been revealed that up to 20 Royal Navy pilots were involved in Syrian air strikes following a Freedom of Information request by the pressure group Reprieve.
MPs from all sides have been quick to criticise the government for creating a "breach of trust with the British people".
Tory John Baron – who voted against the action in Syria in 2013 – demanded that UK military personnel be removed, and the Labour party called on the government to put out a statement to parliament on Monday or face an urgent question, which would force a response, the Times reported.
This leaves the government in an awkward position as defence Secretary Michael Fallon confirmed that British pilots were embedded with allied US, Canadian and French forces.
He said: "these are a handful of British pilots embedded with American forces and are part of American military operations, for which the Americans have full approval."
However, the embedding was not mentioned by the Defence Secretary, Michael Fallon, or Defence minister Lord Howe when they spoke about the role of British servicemen in Syria on Thursday, the Times reported.
So was the government attempting to disguise the fact that British pilots were operating with allied foreign forces?
Not according to the Conservative MP who chairs the Commons defence committee Julian Lewis.
He said: "This episode is a significant embarrassment for the government, but not a conspiracy by it."
However, the signs of mission creep are all too evident.
According to a military source, Three British pilots have taken part in air strikes while being based on the US aircraft carrier the USS Vincennes which flies flying F-18 Super Hornets. The aircraft carrier had been deployed in the Gulf in operations from October last year until three months ago.
RAF pilots are also thought to have flown missions with Canadian and French forces, the Times reported.
Lewis has stated that Fallon has been "open" about British involvement in Syria and had not considered the "small number" of British aircrew embedded with allied troops as significant British involvement.
The government said that the combat operations in Syria were not British and so did not require parliamentary approval.
Activists are concerned that the British involvement in the Gulf was escalating.
Jennifer Gibson, a legal officer for Reprieve, said: "It is alarming that Parliament and the public have been kept in the dark about this for so long. We need an open and honest debate about Iraq and Syria; we can't have that, though, until the UK comes clean about what actions its personnel are already taking."
In related news, It was announced yesterday that the government would launch a review of the Freedom of Information Act to "make sure it is working effectively", the Sun reported.