Syria: al-Qaeda Nusra Front shows off huge cache of US weapons seized from moderate Harakat Hazm rebels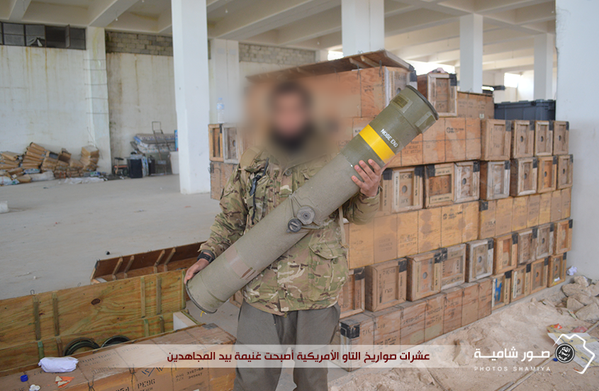 Islamist militants linked to al-Qaeda showed off advanced US weaponry they seized from a moderate Syrian rebel group that recently disbanded.
The Nusra Front posted online images showing its fighters handling anti-tank BGM-71 TOW missiles Washington had supplied to one of its allied militias, Harakat Hazm.
The jihadi group, which is listed by the US as a terrorist organisation, captured the weapons as it overran their secular rivals' headquarters in the Aleppo province.
The fall of Base 46, a former government military facility in the town Atarib, just a few miles west of Aleppo city, triggered Harakat Hazm to announce its dissolution at the end of last week.
After the military victory the Nusra Front released on social media photos depicting a warehouse with stockpiles of weapons, ammunition and boxes of aid, including some stamped with a US logo.
The group had boasted a similar booty after it routed Harakat Hazm and its allies of the Syrian Revolutionaries Front (SFR) from Jabal al-Zawiya, Idlib province, in November 2014.
The demise of Harakat Hazm represented a major setback for Washington's efforts to increase moderate rebels' influence within Syria, as it relied on Islamic State (Isis) militants on the ground, complementing its air strikes.
American support proved to be a double-edged sword for the moderate rebels group, as it turned them into a direct target of jihadists.
Announcing its dissolution, Harakat Hazm said its fighters were to join the Levant Front, an Aleppo-based rebel coalition that includes Islamist groups.
Meanwhile, the Syrian Observatory for Human Rights (SOHR) reported that the Nusra Front released 24 Harakat Hazm members it had captured in the assault against Base 46 in exchange of at least 6 of its own fighters, including a commander.
© Copyright IBTimes 2023. All rights reserved.