Syria: 'Assad chlorine attack' reported in Idlib province as rebels gain ground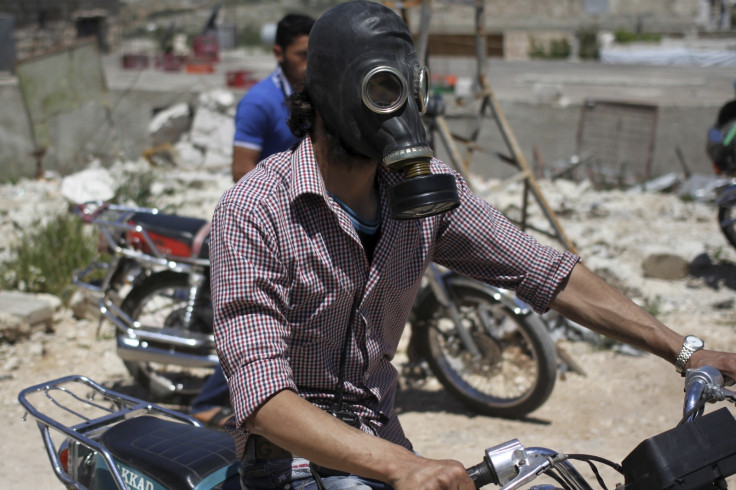 A new suspected chlorine attack has taken place in the Syrian north-western province of Idlib, according to a doctor and a Syrian human rights group, leaving several dozens of people suffocating.
The Syrian Network for Human Rights, a monitoring group based outside Syria, reported three attacks in the area – on al-Janoudiyah, Kansafra and Hizareen villages – and shared on Twitter images from the field hospitals.
One person was killed and over 60 were wounded after helicopters loyal to President Bashar al-Assad dropped gas-filled barrel bombs, according to reports.
#Syria #SNHR: 5 victims suffocating due to gov aviation poisoned gas barrel bomb dropped on Kansafra, May 7 pic.twitter.com/36HrFDy0pt

— Syrian Network_SNHR (@snhr) May 7, 2015
The report was confirmed by Mohammed Tennari, a doctor who testified before the UN security council about another chemical attack in Idlib. Tennari, who is coordinator for the Syrian American Medical Society, told AP that the chlorine attack left 80 people injured.
A man in his thirties and his baby son also died from another suspected chlorine attack in a fourth village in Idlib on 2 May, he said.
The reports could not be independently verified.
The suspected chlorine attacks come amid significant gains made in northern Syria by rebel forces backed by an unusual Saudi-Turkish alliance. The Conquest Army seized Idlib, the strategic town of Jisr al-Shughour and a regime military base.
The anti-Assad pact, signed in early March by Turkish President Recep Tayyip Erdogan and newly elected Saudi King Salman, provided logistical and financial support to the constellation of anti-Assad groups fighting on the ground.
Embattled President Assad vowed to destroy his chemical weapons stockpiles and dismantle his facilities in 2013 after a sarin gas attack on a rebel-held area. But chlorine was not included as it also has civilian uses.
Assad has always denied using chemical weapons and blamed such attacks on rebels.
© Copyright IBTimes 2023. All rights reserved.