At least 40 people are reported to have been killed and about 100 wounded when Syrian government forces fired a barrage missiles into a busy market in the rebel-held town of Douma, 10 miles (15km) north east of Damascus. The Syrian Observatory for Human Rights said Assad's forces fired 12 missiles into the market place.
Douma has suffered intense bombardment in recent months. The Syrian army said it is targeting insurgents that have launched attacks on government-held areas. Many of Douma's residents have fled the area, moving to rural areas.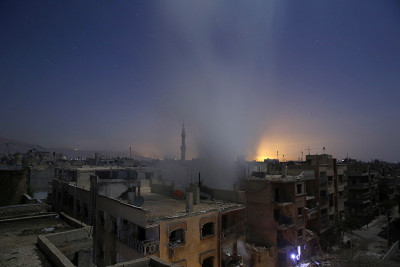 International diplomats are meeting at a peace conference in Vienna, seeking a compromise to help end a the civil war and potentially ease President Bashar al-Assad out of power. His allies, Iran and Russia, are attending the talks, along with countries attempting to oust him, including Saudi Arabia and the US.
Syria's four-year-old civil war has killed more than 250,000 people and driven more than 10 million from their homes.
Additional reporting by Reuters.