The UN's humanitarian chief Stephen O'Brien has said he is horrified by the death of 100 people in the Syrian government's air strikes on a busy marketplace in Douma, a rebel-held town near the capital Damascus.
The UK-based Syrian Observatory for Human Rights (SOHR), which relies on a local network of informants, reported that 96 people, mostly civilians, were killed in the attack on 16 August with more than 200 wounded in the massacre carried out by air forces loyal to President Bashar al-Assad.
It is one of the bloodiest incident in the four-year civil war. Douma has regularly been the focus of regular air raids and helicopter barrel bomb attacks in recent months by Syrian government forces.
"The death toll is expected to rise because there are dozens of people who have been seriously wounded," the group said. Rescue workers said 95 bodies had been identified and a further nine "martyrs" remain unnamed. O'Brien, who is visiting Syria for the first time since his appointment in May, said he was "particularly appalled" by reports of civilian deaths in Douma, which is seven miles east of Damascus. "I am horrified by the total disrespect for civilian life in this conflict," he said.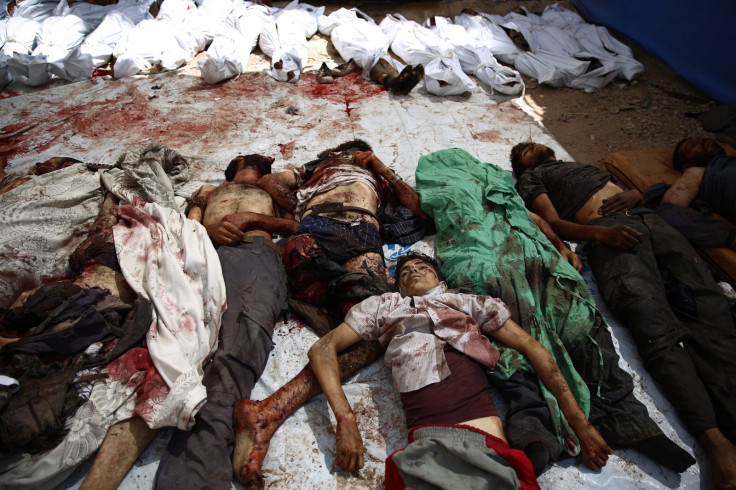 Reuters quoted a Syrian military source as saying that the air force struck Douma's headquarters of the Jaysh al-Islam rebel group.
Jaysh al-Islam, which means Army of Islam, is a joint force created by Jabhat al-Nusra, the local al Qaeda branch, and Ahrar al-Sham, another Islamist rebel group, as well as smaller rebel factions. The new force has fast become one of the most successful actors in the Syrian war after defeating the Assad regime in key battles, IBTimes reported.
The Turkey-based Syrian political opposition group, the National Coalition for Syrian Revolutionary and Opposition Forces, said the attack aimed to inflict as many civilian casualties as possible.
"The number of victims in Douma continues to rise as the regime's bombardment has not yet stopped," it said in a statement. "Rescue teams are having enormous difficulties recovering the victims, specifically with the lack of necessary equipment resulting from a crippling siege the Assad regime has imposed on the area for nearly three years."
According to al-Jazeera reports, government forces launched three more attacks on Douma on Monday 17 August. A local photographer said the market was the main meeting hub in Douma. A video posted online by the civil defence group showed the immediate aftermath of the attack, with fronts of several buildings shattered by the force of the blasts and several cars overturned in the rabble.
Graphic pictures showed dead bodies, many of them children, lined up on the ground after the attack. An AFP photographer, who described the attack as the worst he had covered there, took pictures of several dead bodies covering the floor of a makeshift clinic.