Two-day talks brokered by Russia and Turkey and aimed at extending the ceasefire in war-torn Syria have begun in the Kazakh capital of Astana without the participation of representatives from the West.
The talks, organised by Ankara and Moscow in the aftermath of US-backed rebel forces' critical defeat in the city of Aleppo, are the first held between warring sides in Syria's six-year-long civil war in a year.
Russian Foreign Minister Sergey Lavrov has welcomed the start of the talks. Speaking from Moscow he said he was "glad these talks started today, despite predictions and attempts to hamper" them.
The initiative taken by Moscow in the talks, driving a wedge between increasingly divergent visions of how peace in Syria will be achieved between Ankara and Washington, has been seen as an indication that Russia is now driving the agenda in the region.
The talks conspicuously exclude the West, though an invitation was extended to the Trump invitation to the new US administration last week, which was eventually declined by Washington. George Krol, the US ambassador to Kazakhstan, will be present as an observer.
With both the regime and opposition forces accused of violating a ceasefire imposed since 30 December 2016, Iranian foreign minister Bahram Ghasemi has said discussions over a larger political settlement would have to wait. "Let's wait and see how the process can be continued based on conclusions that will be announced Tuesday," he was quoted by the AP as saying.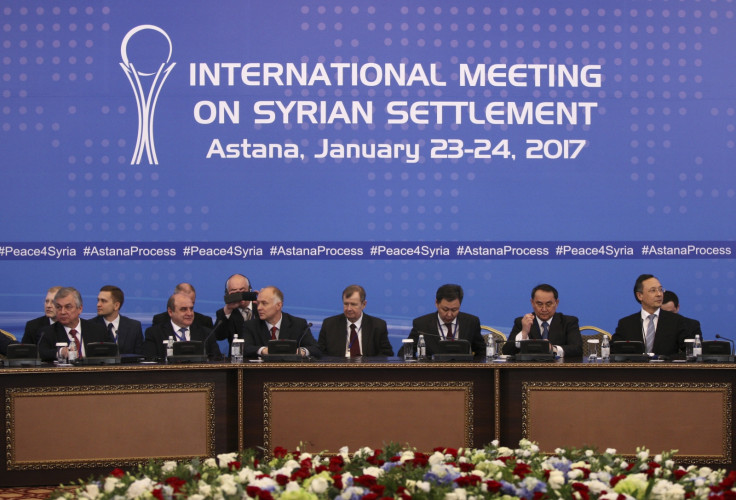 Neither the representatives of the Syrian government in Damascus nor the opposition will be speaking to each other, but they will communicate through intermediaries. The two sides sat opposite each other at a round table in a hotel conference room before beginning the talks.
The opposition delegation, which arrived in Astana on Sunday (22 January), is made up of about a dozen rebel figures led by Mohammad Alloush from the Jaish al-Islam rebel group. The Syrian government is represented by its UN ambassador, Bashar Ja'afari, and military delegates.