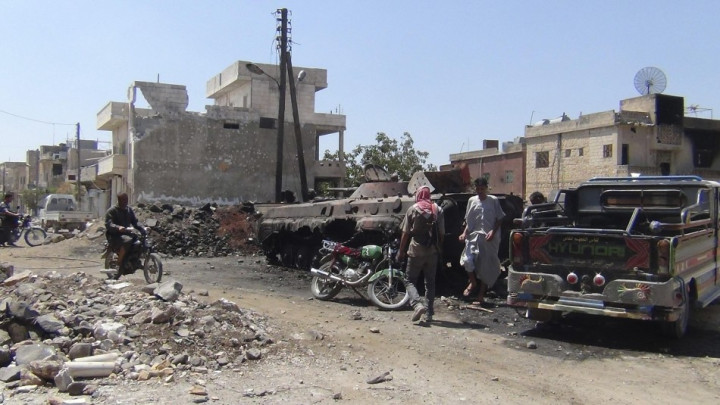 Frustrated UN monitors in Syria have quit over the ongoing violence saying both President Bashar al-Assad's regime and the rebels have chosen the path of war.
Nearly a fortnight ago UN and Arab League special envoy Kofi Annan gave up his peace mission citing the same reason.
The monitors in Syria who were brought down to half of their numbers earlier said the ever-increasing bloodshed in Syria makes it more difficult for any sort of mediation to take place.
"It is clear that both sides have chosen the path of war, open conflict, and the space for political dialogue and cessation of hostilities and mediation is very, very reduced at this point," said Assistant Secretary-General for Peacekeeping Operations, Edmund Mulet.
The mission will come to end on 24 August when the dozens of remaining will leave Syria which may plunge the country into deeper crisis. The extended mandate of the monitors' presence expires on that day.
The international body would be working with the Department of Political Affairs to establish a liaison office in Damascus.
The decision has come at a time when the Syrian violence threatens to become contagious affecting neighbouring Lebanon.
"The situation on the ground is extremely difficult. But the fact that it's difficult doesn't mean that we should not face that challenge of trying to open those political spaces in the future," said Mulet.
Clashes in Syria's largest city Aleppo have also not subsided where reports suggest skirmishes between rebels and Syrian forces are constantly taking place.
"There was a general feeling that the conditions to continue UNSMIS were not fulfilled, but there was also a consensus about the need of keeping a UN presence in Damascus," said Permanent Representative of France, Gerard Araud. "UNSMIS [UN Supervision Mission in Syria] will fade out, but there will be a UN presence," added Araud.
Officials who are already present on the ground have also been identified to work in the new liaison office in order to provide a smooth transition.
Speaking about his letter addressed to UN Secretary-General Ban Ki-Moon, Araud said he had replied expressing consent for a liaison office.
"I think it is imperative for the United Nations to have a presence in Syria that can work in other areas to support me in utilising my good offices, in particular, to support the work of the joint special envoy in mediating and facilitating a peaceful resolution to the crisis," Ban wrote earlier in his letter.
Meanwhile, hunt for a new special envoy continues who will then take the tough job on his/her shoulders.