The Syrian military announced on Wednesday (5 October) that it would ease up airstrikes in the city of Aleppo to allow civilians in the rebel-held eastern districts to evacuate. The military also called on rebels in the besieged city to disarm, noting that their supply routes have been cut off.
The announcement was made on the state-run news agency SANA, CNN reported. The military reportedly made the decision to scale back bombardment after "the success of our armed forces in Aleppo" that cut off and destroyed all "terrorist supply routes" and "vital terrorist bases." SANA reported that the military had information on the location of armed rebels and their warehouses.
The eastern districts of the city suffered 16 days of airstrikes and shelling that reportedly killed more than 300 civilians and damaged hospitals and water facilities, the Associated Press reported. Adham Sahloul, spokesman for the Syrian American Medical Society, places the number of casualties much higher at more than 450 people.
The UN on Wednesday released satellite images showing the damage caused since the US-Russia brokered cease-fire came apart. UN Secretary-General Ban Ki-moon has referred to the situation in Aleppo as "worse than a slaughterhouse."
Opponents and international observers have accused the regime of Syrian President Bashar al-Assad of forcibly depopulating areas that are not loyal to his rule. "The government has used scorched earth tactics against us, and then blesses us with an opportunity to leave? Of course this is refused," Ammar Sakkar, military spokesman of the Fastiqum rebel faction said to the AP.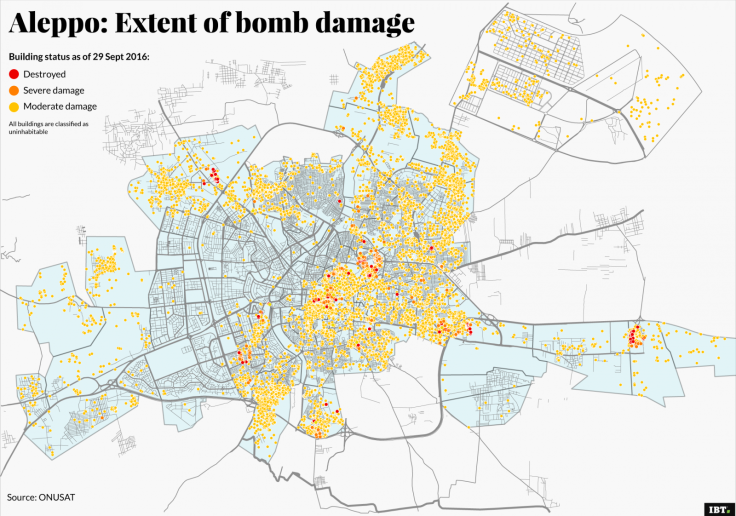 Assad's regime, however, claims rebels in east Aleppo have not allowed civilians to leave through the safe corridors it created in July with the Russian military.
The Syrian government negotiated a similar evacuation in Daraya, on the outskirts of Damascus, earlier this year. The arrangement, made after four years of bombardments that left civilians without food or medical care, was likened to "forced displacement" by the UN.