Former Guantanamo Bay prisoner Moazzam Begg has claimed he may know who held British aid worker Alan Henning hostage and even offered to help secure his release.
Begg, who was cleared of terrorism charges before his trial began after being held in prison for seven months, said he approached the foreign office (FCO) to offer to intervene to help the secure release of the aid worker before he was killed by militant group Isis (now known as Islamic State).
He claims the government rejected his offer because of attempts to "demonise" him while he was held in custody on suspicion of Syria terrorism-related offences.
Begg was arrested in February on suspicion of offences including attending a terrorist training camp and facilitating terrorism following a trip to Syria.
A video was released showing Henning being beheaded by the militant group, now known as Islamic State, on 3 October. He had been captured by them in December 2013 while delivering aid in Syria.
Speaking to Radio 4's Today programme, Begg said he "began the process" of offering to help secure the release of Henning while in prison after being approached by friends of the aid worker.
He added: "At that point my passport had been taken away by the home secretary because it was deemed that I was a terrorist risk, so I approached the government, in particular Alan Burt, the former deputy foreign secretary, with my lawyer to tell him I've been asked to help secure the release of this man.
"I said I don't want you to misunderstand that if I'm going to make calls and approaches to people who are connected to Isis that I'm doing it for any other purpose than to seek the release of this man.
"I sat with him [Burt] and spoke with him for quite some time, we had exchanges, phone calls, text messages and in the end they said they didn't need my help.
"I said I didn't come here to seek your help I simply came here to register with you the interventions that I'm trying to make. A few weeks later I was arrested."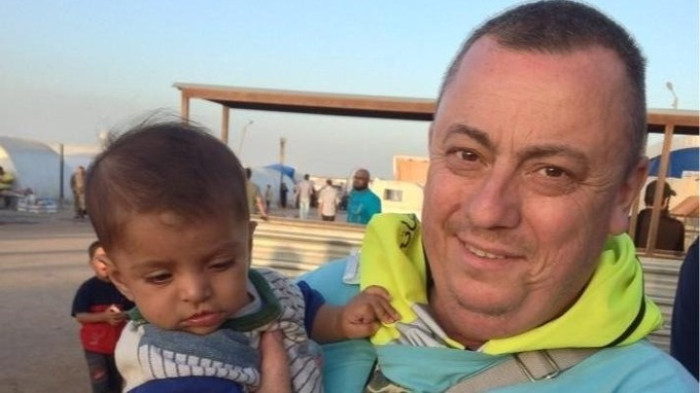 Begg said he "has an idea" who was holding Henning hostage due to his previous humanitarian work in Syria, but not the identity of 'Jihadi John', the masked British man who has appeared in all of the IS beheading videos.
He said there are people "higher up the ladder" who are responsible for capturing Henning.
He added: "It's really important to remember that I was in Syria before Isis ever existed. Nonetheless I was involved in some interventions when they had taken people hostage there from other militant groups.
"I intervened by getting other groups to pressurise them to release those individuals and I got them released."
Begg said he offered to help by making a video message and delivering it in "language, terminology [and] wording that Islamic State would understand".
He added: "To say that I myself was a former Guantanamo prisoner, dressed in orange and facing execution.
"So it was a very heartfelt statement I wanted to make in the Arabic language.
"The problem is that the government in its attempt to demonise and criminalise me simply refused to look at anything to do with what I was about."
Following his release from Guantanamo Bay, where he had spent two years being held before being released without charge, Begg went on to become a director of Cage, a human rights group that campaigns on behalf of those who feel they have been unfairly treated as part of the War on Terror.
The group have now claimed the government "squandered an opportunity" to safe Henning by arresting Begg in February.
A spokesperson added: "Cage, represented by Moazzam Begg had been approached by the FCO and were actively involved in high levels negotiations to secure the release of Alan Henning up to a week before Moazzam Begg´s arrest.
"One can only speculate that Alan may have been free if Moazzam had not been incarcerated for seven months and was able to continue his work in Syria.
"We cannot get Alan Henning back but we owe it to his family and friends to get to the truth of the government's role - or lack thereof - in securing his release and why Moazzam Begg, who perhaps could have secured his release, was arrested in the first place."